The 4th Volunteer Battalion was a volunteer battalion of the Royal Lothian Scots Regiment that existed from 1860 - 1888. The Battalion along with the 1st, 2nd, 3rd, and 4th Volunteer battalions all existed as rifle volunteer corps before moving under control of the Royal Scots.[1][2]
The 2nd Midlothian (Midlothian and Peebles-shire) Rifle Volunteer Corps were the acedent to the 4th Volunteer battalion created originally in May of 1860 as the 2nd Midlothian Rifle Volunteer Corps in the 1st Administrative Battalion, Midlothian Rifle Volunteers. The 2nd Rifle Coprs were headquartered in Dalkeith. In 1863 the the peebles-shire volunteer corps were all regimented, and the 2nd corps were no exception, becoming the new 2nd Peebles-shire Volunteer Rifle Corps. Just ten year later in 1873 the corps were disbanded.[1][2]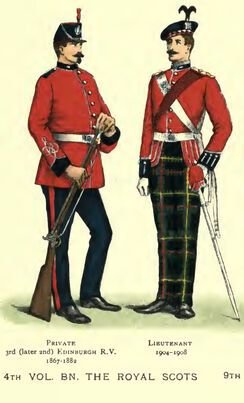 In 1880 with the new defense agreements the two remaining 1st and 3rd corps were consilidated to form the new 2nd Midlothian (Midlothian and Peebles-shire) Rifle Volunteer Corps. The corps were one of the largest at the time consisting of 11 companies; A-D at Dalkieth from 2nd Corps, E at Penicuick from 3rd Corps, F at Valleyfield from 3rd Corps, G at Musselburgh from 5th Corps, H at Loanhead from 6th Corps, I and K Companies at Peebles from 1st Corps, and finally L Company at Inverleithen from 3rd Corps. Just one year later the corps were retitled as the 4th Volunteer Battalion, The Royal Scots. Although the battalion had a long liniage it was finally disbanded, for the second time, in 1888 when it was re-titled as the 6th Volunteer Battalion.[1][2]
Other Information
Edit
In alignment with the other militia and territorial battalions in the British Army at the time the battalion was assigned to a "regimental district" which was numbered after the regiment's "regimental number" or if a amalgamated regiment their most senior regiment. The 4th Volunteer Battalion was itself assigned to Regimental District No. 1. The battalion contained the battle honour "South Africa, 1901-02". The battalion was 79th in Order of Precedence. The battalion's honourary colonel was; General His Highness Viscount Kitchener of Khartoum GCB OM GCMG.[1][2]
References
Edit
↑ 1.0 1.1 1.2 1.3 https://web.archive.org/web/20071025082103/http://www.regiments.org/regiments/uk/volmil-scotland/vinf/rs-8.htm
Community content is available under
CC-BY-SA
unless otherwise noted.