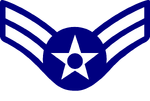 Airman first class (A1C) is the third enlisted rank (E-3) in the United States Air Force, just above airman and below senior airman. The rank of airman first class is considered a junior enlisted rank, with the non-commissioned officers and senior non-commissioned officers above it.
Airman first class is a rank that has also been used by the U.S. Navy and the U.S. Coast Guard, although it is not currently in use. In documents about the history of U.S. armed forces, you will frequently see this rank abbreviated as "ARM1c".
Promotion to airman first class
[
edit
|
edit source
]
Promotion to airman first class occurs upon one or more of the following:
Those personnel who qualify for these early promotions to airman first class wear the insignia of this rank during their basic training graduation ceremonies at Lackland Air Force Base, Texas, except for those who signed up for an extended enlistment. They will receive their promotions to airman first class twenty weeks after graduation from basic military training or graduation from their technical training schools, whichever comes first. Enlistees who have signed up for initial six-year enlistment periods have usually qualified and done so in return for a guarantee of up to two years of training in Department of Defense and Air Force schools in highly-technical specialities such as electronics, weapons systems, physician's assistant or nursing. To qualify for all of this, the enlistee must have graduated from high school and scored highly on Air Force technical aptitude tests. On the bottom line, they spend up to two years in training at the expense of the Air Force, and then they pay back by serving at least an additional four years after their schooling. They also get an early promotion to airman first class as additional compensation.[Note 1]
Those who are promoted to this level upon completion of basic training also receive a retroactive pay increment that brings them up to the E-3 pay grade corresponding to airman first class, going back to day one of their enlistment. In other words, they get paid as if they had enlisted as an airman first class. However, if for some reason they get expelled from basic training, they do not receive this extra pay, and just get paid as airmen basic for the time that they spent in the Air Force before getting discharged.
Airmen first class are considered to be fully adjusted to Air Force and military life, and their duties focus on efficiently and effectively carrying out their assignments and honing their job skills.
From 1947 to 1952, this rank was known as an Air Force corporal, and from 1952 to 1967 it was called an airman second class. Also during this time frame, the E-4 paygrade rank, now known as senior airman, was called airman first class.
Because of their two stripes, airman first class are often nicknamed "dragonfly wings."
↑

The U.S. Navy has very similar six-year enlistments for nuclear power, and electronics.
United States enlisted ranks
Pay Grade →
Branch of Service ↓

E-1

E-2

E-3

E-4

E-5

E-6

E-7

E-8

E-9

Air Force

AB

Amn

A1C

SrA

SSgt

TSgt

MSgt - 1st Sgt

SMSgt - 1st Sgt

CMSgt - 1st Sgt - CCM - CMSAF
Army

PVT

PV2

PFC

SPC - CPL

SGT

SSG

SFC

MSG - 1SG

SGM - CSM - SMA
Marine Corps

Pvt

PFC

LCpl

Cpl

Sgt

SSgt

GySgt

MSgt - 1stSgt

MGySgt - SgtMaj - SgtMajMarCor
Navy

SR


SA


SN

PO3

PO2

PO1

CPO

SCPO

MCPO - CMDCM - FORCM - FLTCM - MCPON
Coast Guard


SR


SA


SN

PO3

PO2

PO1

CPO

SCPO

MCPO - CMC - MCPOCG
Community content is available under
CC-BY-SA
unless otherwise noted.