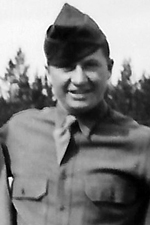 Alexander "Alex" Miller Abercrombie (7 May 1921 in Kilsyth, Scotland - Killed in action 12 or 18 April 1945 near Himmelgeist, Germany) was a Scottish Technician Fifth Grade in the United States Army during World War II.
Biography
Edit
Alex was born in Kilsyth, Scotland on 7 May 1921 to John L. and Elizabeth Abercrombie. He also had a brother (Robert) and three sisters (Elizabeth, Mary, and Kathryn). He attended Ebensburg-Cambria High School eventually dropping out and joining the United States Army on 9 September 1942. He enlisted from Altoona, Pennsylvania (ASN: 33252550). He joined Company A, 1st Battalion, 506th Parachute Infantry Regiment, 101st Airborne Division and was sent over seas to Europe. He was killed in action on 12 or 18 April 1945 near Himmelgeist in Germany and was buried in the Netherlands American Cemetery and Memorial. He was 23 years old.
References
Edit
Other Sources
Edit
Community content is available under
CC-BY-SA
unless otherwise noted.