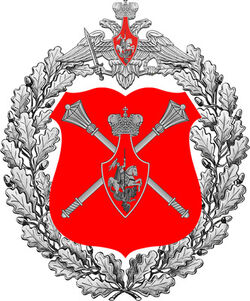 The Armed Forces of the Russian Federation is the Ministry of Defense subordinated military of Russia, established after the break-up of the Soviet Union. On 7 May 1992 Boris Yeltsin signed a decree establishing the Russian Ministry of Defence and placing all Soviet Armed Forces troops on the territory of the RSFSR under Russian Federation control.
It consists of the Russian Ground Forces, Russian Air Force, and the Russian Navy. The Supreme Commander of the Armed Forces is the President of the Russian Federation, Vladimir Putin.
The Armed Forces of the Russian Federation have a total combined 3,796,100 troops, making it one of the largest armed forces in the world, with 1,037,000 troops active, and 2,400,000 in reserve.
Conscription
Edit
Conscription in Russia is presently a 12 month draft, mandatory for all male citizens age 18-27, with a number of exceptions. The mandatory term of service was reduced from 18 months at the beginning of 2008
In Russia, a person can be conscripted at the age 18 – 27, i.e. a man can't be drafted after he turns twenty-seven.
A significant portion of Russians of conscript age try to avoid it, mostly because of specific code of violence which has developed in the army since 1970s called Dedovshchina and also pretty poor conditions in Russian Army, which makes large number of conscript-age Russian youth worry about their health or even lives while in the forces.
Main Services
Edit
Community content is available under
CC-BY-SA
unless otherwise noted.