The Berretta ARX-160 is an Italian prototype assault rifle created by the company Berretta as part of the Soldato Futuro (Future Soldier in English) program, now fully developed, this weapon was sold to Italy and Mexico.
Description
[
]
The Beretta ARX-160 assault rifle is, as of mid-2008, still isn't fully developed. It is a part of the Italian Army's 'Soldato Futuro' program, and is developed by famous Italian company Beretta in close cooperation with army. The rifle is a part of a massive soldier equipment package, which, among other items, will include an advanced rifle sight witch will combine day and night time (optical, TV and IR) view / sight capabilities and laser pointer (also visible and IR). Another component of the Soldato Futuro system is an advanced 40mm single-shot grenade launcher, which will be either installed on the rifle (using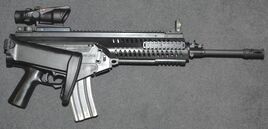 Picatinny rail interface) or used as stand-alone weapon (by adding a detachable pistol grip and telescoped stock to it).
The Beretta ARX-160 assault rifle is gas operated weapon that utilizes conventional piston-operated action, with gas piston located above the barrel. Barrel locking is achieved by more or less conventional rotary bolt. Unlike most other assault rifles, the Beretta ARX-160 assault rifle features quick-detachable barrels, which can be changed by operator in the field by depressing the barrel release button (located on right side of receiver, in front of magazine housing), pulling the barrel forward and out of the gun, and then inserting another (or same) barrel back. The receiver consists of two parts, upper (which holds barrel and bolt group) and lower (which hosts magazine housing, trigger unit and pistol grip). Both halves are made from impact-resistant polymer and connected using special quick-release locks, so there are no pins to push out (and lose). Another interesting and unusual feature of the Beretta ARX-160 assault rifle is that it has selectable left / right side ejection system with dual ejection ports (on either side of the gun) and user-switchable left / right position of cocking handle. To change the direction of empty case ejection, user has to push the cross-bolt button, located above and slightly to the rear of pistol grip, by the tip of the bullet (or other pointed item). This affects dual extractor-ejector claws, installed on the bolt, forcing them to eject spent cartridge to the desired side without any further disassembly of the gun or parts change. Charging handle, which is attached to the bolt carrier, also can be installed on either side of the gun. The Beretta ARX-160 assault rifle fires from closed bolt, in single shots and full automatic mode, and has ambidextrous safety / fire mode selector switch conveniently located above pistol grip. Upper receiver is fitted with full-length Picatinny type rail, made of aluminum, which can accommodate a wide variety of sighting equipment, including iron, telescopic, red-dot or electronic sights. Standard open sights are mounted on folding bases using rail interface. Additional lengths of Picatinny rail are installed on the forend on 3-, 6- and 9- o'clock positions. Lower (6-o'clock) position rail is strong enough to host GLX 160 40mm single-shot grenade launcher. Standard buttstock is also made of plastic, and folds to the right side. The buttstock is of telescoped, user-adjustable design
Operators
[
]
Specifications
[
]
See also
[
]
References
[
]