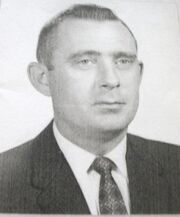 Lubert Francis "Bert" DeFreese
or
de Freese
(25 or 28 October 1925 in Nebraska - 2 January 1991) was a
American
Ensign
in the
United States Navy
during
World War II
. He also served in the United States Secret Service during the presidency of
John F. Kennedy
.
Biography
Edit
Bert was born in the state of Nebraska on 25 or 28 October 1925 to Klaus and Irene DeFreese. He joined the United States Navy on 11 May 1943 serving in World War II until being discharged on 29 March 1945. Later graduated from Colorado State University earning degrees in 1949 in both science and forestry. He began his civilian government career in 1950 with the National Park Service in Yellowstone National Park. He married a girl named Marilan J. and would later join the Secret Service in 1956. His first assignment was in Chicago, Illinois where he stayed until 1958. He was transferred to the White House Protection team and was present at the inauguration for Kennedy. He was interviewed by the House Select Committee of Assassinations on 2 February 1978. He retired in 1979 after serving Eisenhower, Kennedy, Johnson, and Nixon. He spent the last four years of his career in the service's investigative unit. Bert passed away on 2 January 1991 from leukemia at the age of 65. He was buried in Arlington National Cemetery in Arlington, Virginia.
Community content is available under
CC-BY-SA
unless otherwise noted.