CTE Bauru (Be -4) was a Destroyer Escort of Bertioga Class, is now a museum-ship of Brazilian Navy.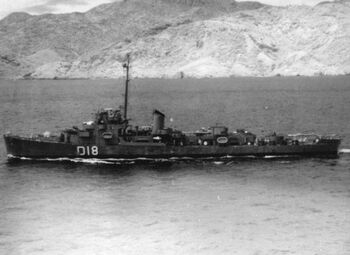 Built during the
WWII
in New Jersey, the Bauru was launched on September 15 of 1943, and incorporated into the
U.S. Navy
in 11 October the same year under the name "
USS McAnn (DE-179)
."
It was decommissioned in August 15 of 1944, When it was transferred to the Navy of Brazil and renamed in honor of the city Bauru. In the state of São Paulo, Brazil.
Also during the conflict, Destroyer Escort - Bauru followed trains and played support missions to transport troops and patrols in war zones.
At the end of the conflict, was incorporated into the Flotilla of Destroyers and later the Squadron Notices Oceanic, where he continued to perform important and diverse missions.
In his nearly 40 years of activity, Bauru sailed 295,405 miles, totaling 1423 days at sea.
End-of-War decommissioning
Edit
The USS McAnn underwent an upkeep and then steamed to Natal, Brazil, arriving on 10 August. She decommissioned there on 15 August and was transferred, under lend lease, to Brazil on the same date. She was commissioned in the Brazilian Navy on 16 August as Bauru (D‑18). She served on loan with Brazilian Navy until 30 June 1953 when she was retransferred to Brazil, permanently, under the Mutual Defense Assistance Pact.
After undergoing reforms to adapt, was opened to the public this year 1982 as ship-themed museum, displaying weapons, facilities and aspects of participation of the Brazilian Navy in World War II.
Specifications
Edit
Displacement: 1240 t (Standard), 1,620 tons ( loaded)
Dimensions : 306 '( oa ) 300 ' ( wl ) x 36 ' 10 " x 11 '8 " (max)
Range: 10.800 miles to 12 nautical us
Speed: Maximum 21 knots
Propulsion: diesel-electric, 4 GM Mod 16- 278A, 6000 shp, 2 screws
Armament: 3 x 3 "/ 50 Mk22 ( 1x3 ), 1 twin 40mm Mk1 AA, 8 x 20mm Mk 4 AA, 3 x 21 " Mk15 TT ( 3x1 ), 1 Hedgehog Projector Mk10 (144 rounds ), 8 depth charge projectors MK6, 2 depth charge tracks Mk9
Crew: ?
Community content is available under
CC-BY-SA
unless otherwise noted.