The CZ-75 is a semi-automatic pistol based on the Browning Hi-Power made in 1975 by Česká zbrojovka Uherský Brod (CZUB) in the Czech Republic.
Description
Edit
The CZ-75 pistol was developed by the Koucky brothers, who worked at the state-owned arms factory Ceska Zbrojovka (CZ) in the city of Uhersky Brod (Czechoslovakia, now Czech republic). This full-size semiautomatic pistol first appeared in the 1975, and the production began circa 1976. CZ-75 was obviously intended for the export market. The CZ-75 accumulated best features from many preceding designs. Resulting pistol was aesthetically attractive, comfortable to handle and shoot, quite accurate and reliable in operation. Made by CZ in various versions and modifications, CZ-75 was also widely copied and cloned. Most popular of CZ-75 copies are (or were) made by: IMI (
IMI Jericho-941
,
Israel
), Tanfoglio (
TZ-75
,
TZ-90
,
T-95
,
Italy
), Sarsilmaz (
M2000
,
Turkey
), ITM (
AT-88
,
Swiss
), Sphinx (
mod.2000
,
Swiss
), Norinco (
NZ-75
,
China
), Springfield (
P9
,
USA
).
CZ-75 is now in service with Czech police (in the form of compact CZ-75 P-01). It is also used by Turkish police, and by several police departments in USA. By opinions of most experts, CZ-75 is one of the best combat pistols in its class.
CZ-75 is a short recoil operated, locked breech pistol. It uses a fairy standard Browning locking system, with cam-shaped cut below the barrel, which lowers the barrel on recoil stroke. Barrel locks into slide with two locking lugs, located just ahead of the ejection port. The slide rides on the internal rails, machined on inside of the frame. This system, originated by the Swiss
SIG-P210
pistol, provides more smooth cycle and better tolerances, resulting in greater accuracy. In basic models, the double action trigger system with exposed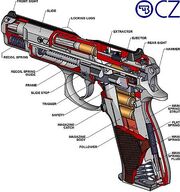 hammer has a frame mounted manual safety, which allows for "cocked and locked" carry. Since the late 1980s, all CZ-75 type pistols are fitted with internal firing pin safety. Models with firing pin safety are indicated with "B" index, for example CZ-75B, CZ-75BD. All full-size CZ-75 have all-steel construction; several compact models, including CZ-75 P-01, have aluminum frames with steel slides.
There are several variations of the trigger system, available in various models. First is decock-only system (frame-mounted decocker lever, with no manual safety, in models CZ-75BD, CZ-75 BD Compact, CZ-75 P-01). Second is the Double action only system, with no manual safety and spur-less hammer (models CZ-75DAO). Third is the Single action system, with manual frame mounted safety, intended mostly for sport shooting under IPSC rules (CZ-75SA). In all versions, manual safety or decocking lever is located only at the left side of the frame, as well as the slide stop. The completely ambidextrous version of the CZ-75 is the CZ-85.
Standard models of CZ-75 are fitted with fixed sights, with the rear sight being dovetailed into the slide. "Combat" and IPSC models are fitted with adjustable rear sights.
The Semi-compact models of CZ-75 have the same frame as basic guns, but have slide and barrel shortened by 20mm (.78 inch); Compact models also have shorter grip frame, which holds only 13 rounds of ammunition (standard magazines will also fit, but will protrude from the bottom of the grip).
The CZ-75 P-01, which is a standard gun for Czech police since 2001, is based on the Cz-75BD Compact, but also featured an accessory rail under the barrel, which is usually fitted with tactical flashlight.
Probably most rare version of the CZ-75 is the CZ-75 Automatic, a selective-fire version of the basic pistol, which can fire either in semi-auto or in full auto, with rate of fire about 1,000 rounds per minute. The CZ-75 Automatic first appeared circa 1992, and is intended for special police and military forces. To help control the gun, a spare magazine can be fitted upside down into special holder under the barrel; it then serve as a front grip. Early models of CZ-75 Automatic were fitted with longer barrels with integral compensators; latest models have standard barrels.
Early models of CZ-75 were offered with 15-round double stack magazines; present models are offered with 16-rounds magazines (9mm full-size models), 12-rounds magazines (.40SW models) or with 13-rounds magazines (9mm Compact models). For US market, those guns are offered with 10-round magazines.
CZ variants of the CZ 75 include:
CZ-75
The original CZ 75, easily identified by the curved trigger guard and spur hammer, and short slide rails. Short rail CZ 75's in excellent condition without import markings have fetched between $2500 and $3000 in the U.S. due to their rarity, with the early blued finish model commanding a premium over the later enameled finish.

::Second-generation CZ 75 with internal firing pin safety, squared and serrated trigger guard, and ring hammer.
CZ 75 Compact
Combines the frame, grip and capacity of the full size CZ 75 with the shortened (by 20mm) barrel and slide of the CZ 75 Compact.
A CZ 75 Compact variant intended for law enforcement use, with an aluminum alloy frame, decocker and under-barrel accessory rail. It is the new weapon of choice for the Czech National Police. It received NATO certification after undergoing extensive testing. Its NATO Stock Number (NSN) is 1005-16-000-8619.
CZ 75 SP-01/SP-01 Tactical
Similar to the P-01 with accessory rail, but with all-steel construction and utilizing the full-size frame and slide as well as incorporating extended-capacity 19 round magazines. It is available with an ambidextrous manual safety (SP-01) or with an ambidextrous decocker (SP-01 Tactical). Used in the 2005 IPSC World Shoot XIV by World Champions Adam Tyc and Angus Hobdell (1st and 3rd place respectively in the

production division).
New generation of CZ 75 SP-01 pistol especially adapted according to suggestions as proposed by users from Law Enforcement, Military and Police communities worldwide, with an additional input from the Team CZ shooters Angus Hobdell and Adam Tyc. Based on the SP-01, it has no firing pin block resulting in improved trigger travel. It also features a slightly reshaped grip and safety, a "weaker" recoil spring for easier loading, and fiber optic front sight and tactical "Novak style" rear sight.::Version similar to P-01 with accessory rail, but utilizing a steel instead of alloy frame. In place of P-01's decocker is an ambidextrous manual safety. Magazine capacity is 10 rounds.
CZ-75 SP-01 Phantom
The CZ 75 Phantom has a polymer frame, is 33% lighter than steel frame models, with accessory rail and a forged steel slide with a weight saving scalloped profile. Two Interchangeable grip rear strap inserts are included with the Phantom to accommodate users with different sized hands. The pistol is further outfitted with a decocking lever.::A CZ 75 variant designed specifically for IPSC compet

ition with extended grip, single-action trigger, heavy-duty free-falling magazines, and an enlarged magazine well.::A competition version designed for Open Division IPSC competition, with three port compensator, adjustable trigger, extended magazine release, ambidextrous safeties, fully adjustable sights and two-tone finish, with blued slide and satin nickel frame.
Czech Army Paratroopers of the 4th Rapid Deployement Brigade is fully equipped with this pistol from this january (2012).
CZ 2075 RAMI
A subcompact version of the CZ 75 intended for concealed carry. Features a 3-inch barrel, aluminum frame and low-profile sights. Available in 9x19mm or .40 S&W, with standard magazine capacities of 10 (9 mm) and 8 (.40 S&W) rounds, respectively. An optional 14-round magazine is available for the 9 mm version.
CZ-75 Kadet
A .22 LR calibre version of the CZ 75, available as a complete gun or as a slide/barrel assembly and magazine kit to fit onto a standard CZ 75B frame.
Operators
Edit
Specifications
Edit
Type: Double Action (75B) or Double Action Only (75DAO)
Chamber: 9x19mm Parabellum, 9x21mm IMI, Smith Wesson .40SW
Weight with empty magazine: 1000g
Length: 206 mm
Barrel length: 120 mm
Capacity: 16 (9mm) or 12 (.40SW) rounds
Community content is available under
CC-BY-SA
unless otherwise noted.