The CZ-G 2000 ia a semiautomatic pistol created in 1999 by CZ-Guns.
Description
Edit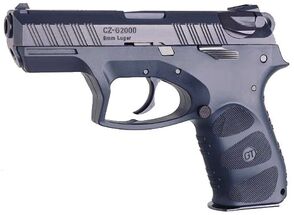 This semiautomatic pistol has been developed in around 1999 by small Czech arms factory CZ-Guns Trade (not to be confused with famous CZ-UB factory located in the city of Uhersky Brod). Apparently, this pistol has been designed for Czech police pistol trials, that were won by CZ-75 P01. Initially offered for export by another Czech company, Arms Moravia, this pistol was sold for a short time on European commercial markets, but soon disappeared without a trace, until 2005, when its design surfaced a half-world away from its home, in Venezuela, where it is made under license by CAVIM as
9mm
Zamorana pistol.
CZ-G 2000 pistol uses traditional short recoil, locked breech, tilting barrel action. Barrel locks into slide with single large lug that enters ejection window; unlocking is controlled by the cam-shaped lug below the barrel which interacts with the cross-pin, set into frame. Pistol frame is made from impact-resistant polymer, with removable steel insert that hosts slide rails. Trigger is of double action type, with exposed hammer, automated firing pin block and slide-mounted decocker lever (left side only). Magazines are double stack, magazine release is located at the base of the enlarged trigger guard. Sights are fixed, both front and rear being dovetailed into the slide.
Specifications
Edit
Type: Double Action
Chamber: 9x19mm Parabellum, .40SW
Weight unloaded: 780 g
Length: 185 mm
Barrel length: 102 mm
Capacity: 15 or 19 rounds (9mm), 12 or 15 rounds (.40)
Community content is available under
CC-BY-SA
unless otherwise noted.