The C Barroso (C-11) (ex USS Philadelphia (CL-41)) was a light cruiser of the Barroso Class, ships of the Brazilian Navy.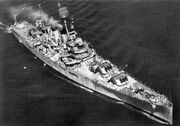 The C Barroso was originally from the
U.S. Navy
where it served during
World War II
under the name
USS Philadelphia (CL-41)
. It was built by the Philadelphia Naval Shipyard, Philadelphia, it belonged to the
Brooklyn Class
the same class of the
ARA General Belgrano
, sunk by nuclear submarine
HMS Conqueror (S48)
in 1982 during the
Falklands War
.
The ship was purchased by Brazil in 1951, along with C Tamandaré (C-12), a modernized version of Barroso. The cruiser Barroso took part in the episode entitled Lobster War, involving Brazilian and French navies, which occurred off the coast of northeastern Brazil in 1963. The C-11, as it was also known, has suffered several accidents during his life in the Brazilian Navy, explosions and fires on board. On August 14, 1967, sailing away on training between Salvador and Rio de Janeiro, taking on board the Minister of the Navy, Fleet Admiral Augusto Rademaker, suffered the explosion of one of its eight boilers, causing 11 deaths. The ship was then towed by the Cv Caboclo (V-19). It was deactivated on May 15, 1973, by Notice No. 0423, the Ministry of the Navy, completing 22 years of service. It was sold as scrap to a company of Santos, São Paulo.
Specifications
Edit
Type: Light cruiser
Displacement: 9,767 tons (standard), 12,207 tons (full load)
Length: 606 ft (185 m) overall
Beam: 62 ft (19 m)
Draft: 23 ft (7.0 m)
Propulsion
Edit
4 shaft Parsons geared turbines
8 Babcock and Wilcox boilers
100,000 shp
Speed: 32.5 knots
Range: 10,000 nm @ 15 kn
Complement: 868
Main Belt: 5.5 in (140 mm)
Deck: 2 in (50 mm)
Barbettes: 6 in (152 mm)
Turret Roofs: 2 in (50 mm)
Turret Sides: 6.5 in (170 mm)
Conning Tower: 5 in (127 mm)
Aircraft carried: 4 floatplanes
Aviation facilities: 2 catapults
Community content is available under
CC-BY-SA
unless otherwise noted.