Cannon Air Force Base is a United States Air Force Base, located approximately 7 miles (11 km) southwest of Clovis, New Mexico. It is under the jurisdiction of Air Force Special Operations Command (AFSOC). The population of the Cannon AFB CDP was 2,245 as of the 2010 census. The host unit at Cannon is the 27th Special Operations Wing (27 SOW), which activated on 1 October 2007, and is assigned to the Air Force Special Operations Command (AFSOC). The 27 SOW plans and executes specialized and contingency operations using advanced aircraft, tactics and air refueling techniques to infiltrate, exfiltrate and resupply special operations forces (SOF) and provide intelligence, surveillance and reconnaissance and close air support in support of SOF operations.
Cannon AFB was established in 1942 as Army Air Base, Clovis. The base was slated for closure as part of BRAC 2005, however this was rescinded after political pressure was applied by then Senator Pete Dominici and Governor Bill Richardson. The commander of the 27th Special Operations Wing is Colonel Albert M. Elton II.[1] The Command Chief Master Sergeant is Matthew M. Caruso.[2]
A variety of special operations aircraft are stationed at Cannon, including the AC-130W Stinger II, AC-130H Spectre, MQ-1 Predator, MQ-9 Reaper, CV-22 Osprey and several versions of light and medium transport aviation aircraft. The AC-130W is assigned to the 73rd Special Operations Squadron, with all twelve becoming operational in 2010.[3]
Cannon Air Force Base is named in honor of General John K. Cannon (1892–1955). General Cannon received his wings in 1922 and held a variety of command positions in World War II, including command of all air operations for the invasion of Southern Europe in August 1944 and Commander in Chief, Allied Air Forces in the Mediterranean Theater. In 1950 he returned to Europe as Commander in Chief of USAFE. General Cannon retired in 1954 as Commanding General, Tactical Air Command. The history of the base began in the late 1920s, when a civilian passenger facility, Portair Field, was established on the site. Portair Field was used as a terminal for early commercial transcontinental flights, flew passengers in the Ford Trimotor "Tin Goose" by day, and used Pullman trains for night travel. In the 1930s Portair was renamed Clovis Municipal Airport.
After the United States entered World War II, the first military unit to use the facility was a glider detachment. On 6 July 1942 the base was assigned to Second Air Force. In 1943, the military began to use the facility as a bomber base. Clovis AAF was assigned to II Bomber Command, Second Air Force. On 8 April 1943, the base was renamed Clovis Army Air Field.. The host unit at Clovis AAF was the 16th Bombardment Wing, a training unit for Consolidated B-24 Liberator bomber crews for Europe, and later becoming a major training/conversion base for the Boeing B-29 Superfortress bombers heading to the Pacific Theater. The 16th Bomb Wing arrived in January 1943. Known USAAF groups assigned to Clovis AAF were:
On 16 April 1945, Clovis AAF was transferred from jurisdiction of Second Air Force to Continental Air Command. CAC continued the flying, bombing, gunnery and photographic reconnaissance classes through the end of World War II. With the end of the war plans were made to establish a permanent B-29 presence at Clovis AAF, and initially Clovis AAF became a processing center for personnel separating from service. Continental Air Command was re-designated Strategic Air Command (SAC) on 21 March 1946. However, by mid-1946, the airfield was placed on reduced operational status due to postwar funding cutbacks and decreased flying activities. On 16 October 1946, the 234th AAFBU was inactivated and on 1 November 1946, the airfield was placed under administrative control of Colorado Springs Army Air Base, Colorado. Clovis AAF was placed on temporarily inactive status 28 May 1947.
With the establishment of the United States Air Force in September 1947, Clovis AAF was reactivated. The 509th Airdrome Group, Clovis Detachment took over day-to-day responsibilities for the airfield on 16 December 1947. The 509th operated Clovis AAF as a detachment from its Headquarters at Roswell AAF, New Mexico, using the airfield as a deployment facility for the group's B-29s. Clovis AAF was renamed "Clovis Air Force Base" on 13 January 1948. However with no funds to host an active SAC bomb wing, Clovis AFB was placed on reserve/standby status on 1 July 1948. Its caretaker unit was the 234th Air Force Base Unit.
Clovis AFB remained on standby status until 1 April 1950 when jurisdiction was transferred from SAC to Air Training Command (ATC). ATC assigned the base as subpost of Reese AFB, Texas on 12 May 1950, while construction ensued to bring the base up to USAF standards. Plans were made to make Clovis AFB a contract flying training facility, however the advent of the Korean War changed the Air Force's plans for Clovis and jurisdiction was transferred to Tactical Air Command (TAC) as a fighter base on 23 July 1951.
The first USAF unit to use Clovis AFB was the Air National Guard's 140th Fighter-Bomber Wing, which arrived in October 1951 after being activated due to the Korean War. The 140th FBW was a composite unit, made up of elements from Colorado, Utah and Wyoming Air National Guard. The wing flew the World War II vintage North American F-51D "Mustang". During their period of federal service, elements of the 140th FBW took part in Operation Tumbler-Snapper – 1952, a nuclear bomb test in Nevada. At the end of 1952, the elements of the 140th returned to Air National Guard control in their respective states.
The 140th returned to Cannon in 1968 as the 140th Tactical Fighter Wing. The unit was mobilized in response to North Korea's seizure of the U.S.S. Pueblo and included F-86 Sabre fighter squadrons from the Maryland and New York Air National Guards. While at Cannon, the units conducted ground attack training for Air Force pilots. The Air National Guardsmen were demobilized in December 1968 and returned to their respective states.
With the Air National Guardsmen returning to state control, on 1 January 1953 TAC assigned the 50th Fighter-Bomber Wing to Clovis on 1 January 1953. Operational squadrons of the 50th FBW were:
The 50th initially began flight operations with the F-51 Mustang. Before long, the wing replaced its propeller-driven Mustangs with jet-powered, F-86F Sabres. As the conversion to the F-86F continued in the spring and early summer of 1953, crews and maintenance personnel continued their training in the Sabre. Once training levels for pilots and aircrews had reached operational levels, the 50th FBW began preparations for its move to Hahn Air Base, West Germany. A second wing, the 37th Fighter-Bomber Wing, was planned for activation at Clovis to replace the 50th. It was established on 3 March 1953 and activated on 8 April 1953. However, it was neither manned or equipped due to personnel and equipment shortages and was inactivated on 25 June.
The 50th FBW deployed to Hahn on 10 August 1953, during Operation Fox Able 20. This marked the first mass flight of an entire tactical wing from the U.S. to continental Europe.
After a few months of low-level activity, the 388th Fighter-Bomber Wing activated for the first time at Clovis AFB. The 388th's operational squadrons were:
Each squadron was equipped with F-86F Sabres. Wing support aircraft consisted of 4 C-47s of various types, one L-20A, and 5 T-33 Shooting Stars. The wing was reactivated following Secretary of State John Foster Dulles' promise to provide NATO with four additional tactical fighter wings. The unit trained with the Sabrejet and was declared operational at Clovis AFB in the late summer of 1954. On 22 November 1954, the 388 FBW relocated to its planned NATO base at Etain-Rouvres Air Base, France.
312th/474th Fighter-Bomber Wings
[
edit
|
edit source
]
With the departure of the 388th to France and TAC's commitment to NATO completed, the 312th Fighter-Bomber Wing was activated at Clovis AFB on 1 October 1954 as a permanent organization. Operational squadrons of the 312th FBW were:
The 312th was initially equipped with F-86H Sabres when it activated, however it began to receive the F-100D Super Sabre in December 1956. On 8 November 1954, the 474th Fighter Bomber Group was transferred to Clovis AFB from Taegu AB, South Korea after fighting in the Korean War. The 474th FBG became a second flying component of the 312th FBW, its mission to be a training organization. Operational squadrons and colors of the 474th FBG were:
The 474th was also equipped with North American F-86H "Sabre". Several changes occurred at Clovis AFB in 1957. On 8 June Clovis AFB was renamed Cannon Air Force Base in honor of the late General John K. Cannon, a former commander of Tactical Air Command. In October of the same year, the 474th was elevated to the 474th Fighter Bomber Wing. With two fighter wings at the base, the 832nd Air Division was activated to oversee their activities.
The F-100 became the principal base aircraft for the next 12 years. From April 1956 to October 1957 the 312th TFW rotated tactical squadrons to either Châteauroux-Déols Air Base or Etain-Rouvres Air Base in France, for six-month deployments to NATO. The 312th also furnished units for TAC composite air strike forces in the Far East during 1957 and 1958, deploying F-100s and crews to Taiwan during the 1958 Taiwan Strait Crisis. Also in 1958, F-100s from Cannon deployed to Turkey. HQ USAF redesignated the 312th and 474th Tactical Fighter Wings on 1 July 1958 as part of a world-wide re-designation of unit.
27th Tactical Fighter Wing
[
edit
|
edit source
]
1959 brought organizational changes at Cannon AFB. With the transfer of Bergstrom AFB, Texas to Strategic Air Command, TAC inactivated the 27th Tactical Fighter Wing at Bergstrom and activated it in place at Cannon on 18 February, replacing the 312th TFW which was inactivated in place the same day for reasons of precedence. The 27th TFW, in various designations, has been assigned to Cannon AFB for over 45 years. The operational squadrons of the defunct 312th TFW were redesignated as follows:
Succeeding major deployments of Cannon's F-100s took place during the Berlin Crisis of 1961 and the Cuban Missile Crisis. Other deployments of 27th TFW aircraft and squadrons (481st, 522d, 524th) were to Hahn AB, Germany; Chambley-Bussieres AB, France; Incirlik AB, Turkey; Dhahran AB, Saudi Arabia; Misawa AB, Japan; Kunsan AB, South Korea; Elmendorf AFB, Alaska; and Udon RTAFB, Thailand.
Units from Cannon deployed the first F-100 squadron to Thailand in 1962–1963, and South Vietnam in 1964. Beginning in 1964 and throughout the Vietnam War years squadrons from the 27th TFW were deployed and detached to Air Force units and bases around the world. The 523d replaced the squadron at Clark beginning on 23 November 1965, not returning to Cannon until 31 August 1973. The 27th did not recombine as a cohesive wing until 1973.
The 522d and 523d Tactical Fighter Squadrons were assigned to Clark Air Base, Philippines on a rotating basis, deploying to South Vietnam on a rotating basis. To try to restrain the Pathet Lao which were busily overrunning most of northwestern Laos. F-100s began to be stationed in South Vietnam beginning in February 1964. The first combat strike by the F-100D was flown on 9 June 1964 when eight F-100Ds of the 615th Tactical Fighter Squadron flew strikes against targets in the Plaines des Jarres in Laos. The first recorded combat loss was an F-100D (56–3085), shot down on 18 August 1964 over Laos.
Many of the F-100 aircraft deployed to the Philippines were further deployed to Thailand. The aircraft were used to fly missions over North Vietnam. These missions were generally of two types—MiG-CAP patrols to protect strike aircraft from attack by marauding North Vietnamese fighters and fighter-bomber strikes carried out with iron bombs against ground targets. On 1 April 1965, F-100Ds flew MiG combat air patrol for a strike force of F-105s that were hitting the Thanh Hoa Bridge in North Vietnam.
It was assumed that the F-100s would probably not be an effective fighter in air-to-air combat, since it lacked a powerful radar set and could not carry advanced air-to-air weapons. However, every time the MiGs tried to interfere with these strikes they immediately fled as soon as the F-100s turned toward them. Encounters between F-100s and MiGs were very few and far between. Although it encountered some maintenance difficulties, the F-100D proved remarkably adaptable to rough-field operations in the tropical heat and rain of Southeast Asia. From mid-1965 onward, F-100D fighter bombers generally operated only in the South, leaving the North for the F-4 Phantom IIs and the F-105 Thunderchief. Down South, the F-100 turned out to be a very effective ground support aircraft, and beat back many enemy attacks.
Beginning in 1966, the natural aluminum finish of TAC aircraft began to be replaced by the Southeast Asian camouflage motif. In 1968, two digit squadron tail codes appeared on the aircraft for identification purposes. Codes used with the 27th were "CA" for the 427th; "CC" for the 522d and "CD" for the 524th. In 1972, these were standaridized to "CC" for all 27th TFW aircraft.
In December 1965, with most of its operational squadrons deployed, the mission of the 27th changed from a Tactical Fighter Wing to a replacement training unit. The 27th Tactical Fighter Wing became the largest such unit in TAC. The 4585th Student Squadron was initially activated on 1 January 1966 to perform this mission. Later, the 4429th Combat Crew Training Squadron was activated on 15 May 1968 as a 2d training squadron, replacing the deployed 523d TFS.
On 1 January 1969 the 4427th Tactical Training Squadron replaced the 4585th SS. The 465th Tactical Fighter Training Squadron replaced the 4429th CCTS on 1 December 1972, arriving from Holloman AFB, New Mexico.
Many F-100 pilots that flew in the Vietnam War were trained at Cannon AFB. From Cannon, the aircrews were transferred to the F-100 bases in South Vietnam – Phù Cát Air Base (37th TFW); Phan Rang AB (35th TFW) and Tuy Hoa AB (31st TFW).
The 27th also trained forward air controllers and air liaison officers in Lockheed T-33 Shooting Stars from 1969 to 1976. The 4468 Tac Control Squadron initially performed this mission in 1969, being replaced by the 609th Tac Control Squadron. The 609th TCS was inacivated on 15 June 1976.
With the withdrawal of the F-100 from Vietnam, and the phaseout of the aircraft from the active Air Force inventory, the 474th TFW converted from F-100s into new General Dynamics F-111A aircraft. The 474th was the first USAF F-111A Wing to receive the F-111. In January 1968, the 474th was transferred to Nellis AFB, Nevada, leaving Cannon AFB with the 27th TFW as the sole operational fighter wing. Headquarters 832d Air Division, however, remained at Cannon exercising operational control over several TAC wings (including the reassigned 474th) until its inactivation in 1975.
The 27th TFW began conversion to the General Dynamics F-111E "Aardvark" in late 1969. This was a several year conversion process, when in July 1972, the last operational active duty Air Force F-100s were transferred from the 27th TFW to the Air National Guard.
The 27th TFW was the third TAC Wing to receive the F-111, the first squadron to receive the aircraft was the 481st TFS, receiving its first F-111E aircraft on 30 September 1969. In addition, older F-111A models were received in October 1969. The squadron reached initial operational capability with the F-111E in the fall of 1969, and had 29 F-111Es by December. However, several accidents involving wing longerons grounded the aircraft until July 1970.
In October 1971, the 522d TFS received both F-111A and F-111Es, although the last F-100D from the squadron did not depart until 19 July 1972; the 524th TFS began receiving their first F-111A/E on 19 July 1972 as well. As part of the wing's training mission, the 4427th Tactical Fighter Replacement Squadron was activated on 1 October 1971 as an F-111D training unit.
The F-111A and F-111E models were not to remain long at Cannon, being replaced in 1972 with the more advanced F-111D.
After the conversion to the F-111D, the operational squadrons of the 27th TFW in 1973 were:
481st Tactical Fighter Squadron
Re-designated 481st Tactical Fighter Training Squadron 15 January 1976
4427th Tactical Fighter Replacement Squadron
The older F-111Es were sent to RAF Upper Heyford, England and the F-111As being sent to the 474th TFW at Nellis or were converted into EF-111A Raven electronic warfare aircraft. The 837th Air Division moved to Nellis AFB Nevada on 1 July 1975, after which the 27th TFW became the host unit at Cannon.
Initially the F-111Ds were crippled by avionics problems. The horizontal situation display was prone to frequent failures, delivery of field ground equipment was late, and depot support was poor. There were excessive reliability and maintenance problems with the Mk II avionics, so severe that at times line mechanics were forced to resort to buying parts at Radio Shack. Operational readiness remained low all throughout 1973, and the abort rate of the F-111D was higher than that of other F-111s. It was not until January 1974 that the F-111D was finally declared operationally ready.
The 481st TFTS was inactivated in January 1980 and the 524th Tactical Fighter Squadron was redesignated the 524th Tactical Fighter Training Squadron. That left the 27th TFW with two operationally deployable and one training squadron.
1988 marked the beginning of Cannon's expansion as a result of decisions made by the Secretary of Defense's Commission on Base Realignment and Closures (BRAC). The 428th Tactical Fighter Training Squadron formerly of the 474th TFW at Cannon was reactivated with the 27th TFW on 15 December, being equipped with the F-111G. The "G" model was a conversion of the former SAC FB-111A all-weather strategic bombing version of the F-111, which was originally intended as an interim successor to the Boeing B-52 Stratofortress and Convair B-58 Hustler. These aircraft, less their nuclear delivery capability, were transferred to Cannon following the disbandment of SAC's 509th Bomb Wing at Pease AFB, New Hampshire and the 380th Bomb Wing at Plattsburgh AFB, New York.
The F-111Gs at Cannon were used primarily for training, but were scheduled to be supplanted in the training role by the F-111E. This made the F-111G surplus to USAF requirements, and the F-111G began to be transferred to AMARC for storage in 1991 with the arrival of the "E" models with the 428th TFTS. The last G model was sent to AMARC in 1993.
Personnel of the 27th TFW played a role during Operations Desert Shield and Desert Storm. Aircrews and aircraft of the 27th did not deploy to the region, but support personnel and a combat support group element of the wing's 27th Combat Support Group, commanded by Colonel David Benson, deployed to Taif. On 16 January 1991, when the U.S. led coalition force initiated the Desert Storm air campaign against Iraq, the 27th TFW had 325 personnel serving in the Persian Gulf region in combat support roles. Additional personnel from the 27th Logistics Group deployed to various other locations around the Persian Gulf.
On 1 November 1991, the 27th TFW was re-designated the 27th Fighter Wing as part of an Air Force-wide reorganization. On 1 June 1992, the base and the wing became part of a new major command – Air Combat Command. ACC was created when SAC, TAC, and the Military Airlift Command (MAC) merged to form two commands, ACC and the Air Mobility Command (AMC).
On 1 August 1992, a fifth operational F-111 squadron was added to the 27th FW in conjunction with the realignment of all EF-111A Raven Electronic Warfare aircraft from Mountain Home AFB to Cannon. The 430th Electronic Combat Squadron was re-activated to receive these aircraft from Mountain Home AFB, and to bring new aircrews to operational readiness with the an electronic countermeasures version of the F-111A. The Raven was originally developed in the 1970s to replace the Douglas EB-66 Destroyer. The 430th was formerly at Cannon with the 474th TFW. After about a year, the squadron was re-designated as the 429th Electronic Combat Squadron as part of the Air Force heritage program keeping notable senior units active.
In addition, the 522d, 523d and 524th Fighter Squadrons replaced their F-111D models, receiving upgraded F-111F model after the withdrawal of these aircraft from RAF Lakenheath, England. The F-111F differed from the F-111D in having more advanced electronics which were nevertheless simplified and more reliable, along with improved landing gear. From September 1992 to July 1993, 27th FW F-111 aircrews and support personnel rotated to Incirlik Air Base, Turkey, for Operation Provide Comfort.
In 1995, the face of the flightline changed when the wing began its transition from the F-111 to General Dynamics F-16C/D aircraft. The first F-16s to arrive in May were assigned to the 522nd Fighter Squadron. Also transitioning were the 523rd and 524th Fighter Squadrons.
With the arrival of the F-16s, the F-111s were sent to AMARC. The 428th Fighter Squadron was inactivated in September 1995, and the EF-111A-equipped 429th ECS was inactivated in May 1998 with the 27th Fighter Wing officially holding a retirement ceremony in memorial park. The F-111 in various forms had been at Cannon AFB for 29 years. With their retirement, the 430th ECS was inactivated.
On 15 January 1998, the 524th Fighter Squadron ventured to the desert for their first overseas deployment since transitioning to the F-16. The 522nd Fighter Squadron deployed to Prince Sultan Air Base, Saudi Arabia in direct support of Operation SOUTHERN WATCH. They flew missions enforcing United Nations Security Council resolutions of a no-fly zone over Southern Iraq. In March, the 523d Fighter Squadron also deployed to Southwest Asia in support of Operation SOUTHERN WATCH.
These two 27th FW squadrons were the first F-16 unit to replace Republic A-10 Thunderbolt II units performing close air support. In addition, they were the first F-16 unit to maintain the demanding combat search and rescue alert in Southwest Asia. While deployed to the Gulf region in December 1998, the F-16s from the 522nd Fighter Squadron provided close air support alert, defensive counter air alert and interdiction in Iraq.
In August 1998, the 524th Fighter Squadron deployed to Hill AFB, Utah for exercise Combat Hammer. During the exercise, they dropped inert GBU-24 Paveway III laser-guided bombs and fired live AGM-65 Maverick antitank missiles on Utah test range. The hit rate was one of the highest ever seen in the Air Force, showcasing the lethality of the Block 40 F-16.
In 1998, the governments of the United States and Singapore signed an agreement laying the foundation of the Peace Carvin III program. As a Foreign Military Sales training program for the Republic of Singapore Air Force (RSAF), Peace Carvin III was designed for the continued training of RSAF in rapid deployment and tactical employment of the block 52 F-16 C/D throughout a wide spectrum of missions including air to- air, joint maritime and precision air-to-ground weapons delivery. The 428th Fighter Squadron was reactivated on 15 September 1998 and tasked to take the lead in Peace Carvin III. The squadron was a hybrid of USAF and RSAF F-16 C/D manned by USAF instructor pilots, Singaporean pilots and combined RSAF and USAF teams of maintenance and support personnel.
In May 1999, the 428th Fighter Squadron participated in its first official major exercise after its reactivation. The squadron deployed to Tyndall Air Force Base, Florida, for exercise Combat Archer. The exercise was designed to test weapons capabilities, tactics and employment. This included the first live firing of radar-guided air-to air AIM-7 Sparrow by the RSAF. With the completion of Peace Carvin III, the 428th FS was inactivated on 6 July 2005.
In July 1999, the 522nd Fighter Squadron deployed to Naval Air Station Keflavik, Iceland, to support NATO exercise Coronet Norsemen. They served primarily as the combat air arm of the Iceland Defense Force. In August 1999, the 523rd Fighter Squadron relieved the 522nd Fighter Squadron from Coronet Norsemen.
During Operation Allied Force in 1999, the 524th Fighter Squadron was notified for "on-call" duty to augment forces. Quick termination of hostilities precluded the 524th Fighter Squadron from seeing action. On 11 September 2001 the day terrorists attacked the World Trade Center and The Pentagon, aircraft from 522nd FS, 523rd FS and 524th FS went on alert. Less than two weeks after the 9/11 attacks the 27 Civil Engineer Squadron deployed members to build a bare base in direct support of Operation Infinite Justice later changed to Operation Enduring Freedom. This made the 27th one of the first bases to take the fight to the enemy. In December 2002, the 524 FS deployed to Kuwait and participated in the 2003 invasion of Iraq, dropping nearly a million pounds of precision guided munitions, more than any other F-16 Block 40 squadron in history.
Special Operations Command
[
edit
|
edit source
]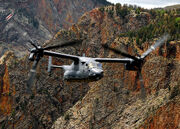 On 13 May 2005, the Base Realignment and Closure (BRAC) Commission recommended that Cannon Air Force Base be closed. However, on 25 August 2005, the BRAC Commission overturned the recommendation that Cannon AFB be closed, but upheld the withdrawal of the base's F-16 fighter aircraft. The Air Force had until 31 December 2009 to come up with a new use for Cannon AFB, otherwise the base would be closed in 2010.[4] Cannon AFB is currently attempting to reopen a rejected EIS alternative, by substituting an Environmental Assessment. Comments are being accepted through 4 October 2010.[5]
On 20 June 2006, it was announced that Cannon AFB would transfer from Air Combat Command and become an Air Force Special Operations Command (AFSOC) installation. Initial word was that the 16th Special Operations Wing would transfer from Hurlburt Field, Florida. However, it was later decided that the 27th Fighter Wing would transfer from ACC to AFSOC and become the 27th Special Operations Wing. This action would entail expanding and realigning some aspects of both the 16th Special Operations Wing and Air Force Special Operations Command, also headquartered at Hurlburt Field. This designation means that the base will receive new aircraft to replace the F-16s lost in the BRAC realignment. Jurisdiction was formally transferred to Air Force Special Operations Command on 1 October 2007.
New airframes, including the CV-22 Osprey, were assigned to the new wing at Cannon. Other potential aircraft for Cannon AFB are AC-130H Spectre Gunships and the MC-130H Combat Talon II. The final aircraft mix between Cannon AFB and Hurlburt Field has not been finalized.[6] As of 20 May 2009 two AC-130H Spectres arrived at the base. These are the first of about eight gunships that will be assigned to the base by the end of the summer.[7]
Base units now include:
One of four groups assigned to the 27th Special Operations Wing. The group accomplishes global special operations taskings as an Air Force component member of the United States Special Operations Command. It conducts infiltration/ exfiltration, combat support, helicopter and tilt-rotor aerial refueling, psychological warfare and other special missions. It directs the deployment, employment, training and planning for seven squadrons that operate the CV-22 Osprey, AC-130W Stinger II, AC-130H Spectre, MQ-1B Predator, MQ-9 Reaper, and various light and medium transport aviation.
27th Special Operations Maintenance Group
Composed of the 27th Special Operations Aircraft Maintenance Squadron, 27th Special Operations Component Maintenance Squadron, 27th Special Operations Equipment Maintenance Squadron and the 27th Special Operations Maintenance Operations Squadron. There are approximately 420 personnel assigned to the group. The 27 SOMXG vision of "The Power in Airpower!" is accomplished daily through innovation, teamwork, integrity and professionalism. The group supports the aircraft of the 27th Special Operations Wing through integrated maintenance support of the AFSOC mission. The 27 SOMXG maintains weapon systems, equipment and vehicles; sustains combat readiness; manages maintenance resources; and provides maintenance services. Most importantly, they prepare, support and execute contingency plans for worldwide mobilization, deployment and employment of wing aircraft.
27th Special Operations Mission Support Group
Provides base support and services activities to ensure mission readiness of the 27th Special Operations Wing, including housing, facility construction and maintenance, food service, law enforcement, fire protection, communications, personnel support, lodging, recreation, environmental management, contracting, supply, transportation, logistics plans and other base services.
Army Air Base, Clovis, 25 September 1942 (establishment)-7 April 1943
Clovis Army Airfield, 8 April 1943 – 12 January 1948
Clovis Air Force Base, 13 January 1948 – 7 June 1957
Cannon Air Force Base, 8 June 1957–present
409th Base HQ and Air Base Sq, 24 December 1942
234th AAF Base Unit, 25 March 1944 – 16 October 1947
509th Airdrome Gp, Clovis Det, 16 December 1947
234th AF Base Unit, 1 July 1948-c. April 1950
Base inactive April 1950-1 October 1951
140th Air Base Gp, 1 October 1951

50th Air Base Gp, 1 January 1953
4445th Air Base Sq, 25 June 1953
388th Air Base Gp, 23 November 1953
312th Air Base Gp, 7 October 1954
832d Air Base Gp, 8 October 1957 (rdsgd 832d Combat Support Gp, 1 October 1962)
27th Combat Support Gp, 8 June 1969 (redsg 27th Mission Support Gp, 1 October 1992)-Present
11th Altitude Training Unit, 22 July 1943 – 1 April 1944
234th Army Air Force (later Air Force) Base Unit (later 4000 Base Services Sq), 1 April 1944 – 1 April 1950
301st Bombardment Group, 4 August 1946 – 16 July 1947
140th Fighter-Bomber Group (NM ANG), 5 July 1951 – 1 January 1963
50th Fighter-Bomber Wing, 1–23 July 1953
388th Fighter-Bomber Wing, 23 November 1953 – 28 November 1954

312th Fighter-Bomber Wing, 1 October 1954 – 18 February 1959
474th Fighter-Bomber Wing, 8 October 1957 – 20 January 1968
832d Air Division, 8 October 1957 – 1 July 1975
27th Tactical Fighter Wing, 18 February 1959 – 30 September 2007
27th Special Operations Wing, 1 October 2007–present
Geography and Demographics
[
edit
|
edit source
]
According to the United States Census Bureau, the CDP portion of the base has a total area of 5.3 square miles (14 km2), of which, 5.3 square miles (14 km2) of it is land and 0.19% is water.
As of the census[8] of 2000, there were 2,557 people, 921 households, and 575 families residing on the base. The population density was 481.8 people per square mile (185.9/km²). There were 1,087 housing units at an average density of 204.8 per square mile (79.0/km²). The racial makeup of the residents was 68.0% White, 13.3% African American, 0.7% Native American, 5.7% Asian, 0.3% Pacific Islander, 6.1% from other races, and 5.9% from two or more races. 12.1% of the population were Hispanic or Latino of any race.
There were 921 households out of which 37.5% had children under the age of 18 living with them, 56.9% were married couples living together, 4.2% had a female householder with no husband present, and 37.5% were non-families. 37.4% of all households were made up of individuals and 0.0% had someone living alone who was 65 years of age or older. The average household size was 2.16 and the average family size was 2.82.
On the base the population was spread out with 20.2% under the age of 18, 52.8% from 18 to 24, 26.2% from 25 to 44, 0.8% from 45 to 64, and 0.0% who were 65 years of age or older. The median age was 22 years. For every 100 females there were 153.4 males. For every 100 females age 18 and over, there were 171.4 males.
The median income for a household on the base was $18,465, and the median income for a family was $25,573. Males had a median income of $15,546 versus $14,635 for females. The per capita income for the base was $11,562. 12.0% of the population and 11.5% of families were below the poverty line, including 14.0% of those under the age of 18 and 0.0% of those 65 and older.
 This article incorporates public domain material from the Air Force Historical Research Agency website http://www.afhra.af.mil/.
 This article incorporates public domain material from the United States Government document "Cannon Air Force Base".
Maurer, Maurer. Air Force Combat Units of World War II. Washington, DC: U.S. Government Printing Office 1961 (republished 1983, Office of Air Force History, ISBN 0-912799-02-1).
Ravenstein, Charles A. Air Force Combat Wings Lineage and Honors Histories 1947–1977. Maxwell Air Force Base, Alabama: Office of Air Force History 1984. ISBN 0-912799-12-9.
Mueller, Robert, Air Force Bases Volume I, Active Air Force Bases Within the United States of America on 17 September 1982, Office of Air Force History, 1989
Active Air Force Bases Within the United States of America on 17 September 1982 USAF Reference Series, Office of Air Force History, United States Air Force, Washington, D.C., 1989
Baugher, Joe. USAAS-USAAC-USAAF-USAF Aircraft Serial Numbers—1908 to present. USAAS-USAAC-USAAF-USAF Aircraft Serial Numbers—1908 to present
Martin, Patrick, Tail Code: The Complete History Of USAF Tactical Aircraft Tail Code Markings, 1994
Menard, David W. USAF Plus Fifteen – A Photo History 1947 – 1962. Lancaster, PA: Schiffere Books,1993. ISBN 0-88740-483-9.
Rogers, Brian, United States Air Force Unit Designations Since 1978, 2005
Community content is available under
CC-BY-SA
unless otherwise noted.