The B1 Centauro is a type of vehicle that was designed for the Italian army, along with a family of other military vehicles during the 1990 years. The Centaur is the heaviest vehicles on wheels equipped with a 105mm cannon .
Description
Edit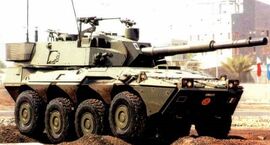 The Centauro B1 can be considered a pioneer in the concept vehicle that it brings. A shield with great mobility provided by your configuration pulled by eight wheels and a firepower comparable to a one-line MBT as the
M-60 Patton
. The
Italian army
asked to develop an armoured with these characteristics in the mid-80s and in 1991 he went into production to serve an order for 400 of the Italian army's armored anti-tank and reconnaissance version, plus 249 units for functions such as transport troops, mortar and port command. Spain has also acquired 84 units of this powerful vehicle.
The Centaur has a top speed of 110 km/h on road, which is exceptionally good for a vehicle with 25 tons, and the acceleration is 0-70 mph in 30 seconds. This performance is provided by a turbocharged V6 engine Iveco and chilled water that produces 512 hp. The tires of the Centaur are the "run flat" and without cameras, so, extremely resistant to fire and can go up to 80 km away with flat tires by gunfire. The Centaur is capable of entering into rivers with depths of up to 1.5 m, 1.2 m of trenches overcome vertical obstacles up to two feet . Surely these numbers are lower than the tracked vehicles, but the scenario of modern warfare is more urban and more that these conditions are not common qualifying the Centaur to operate smoothly in this scenario.
The Centaur's arms, in his version of the recognition and hunt tanks consists of a powerful cannon Oto Melara  HitFact 105 mm/52-calibre, qualified to fire all NATO standard ammunition . Besides the cannon, two machine gun MG-3 7.62 X51 mm, and one coaxial and one mounted on a pedestal above the tower. If the customer wants, the machine gun on top of the tower can be replaced by a more powerful machine gun M-2 HB .50 caliber (12.7 mm). Cannon Oto Melara 105 mm is spin stabilized and is therefore able to shoot accurately against their targets, even if the Centaur is in motion, or that the target is also moving. 14 are carried grenades that are ready for more shooting and another 26 that are stored in the tower. The loading is done manually by the gunner. Interestingly, there is a version of the Centaur that uses a 120 mm cannon, but only Oman has orders for this version yet .
The targeting system is done by several systems, starting with a shot of computer known as TURMS used in MBT ariete (ram in English) . The stabilized gunner's sight has a laser rangefinder and thermal imaging for use in low light situations . But the commander has a panoramic sight with light intensifier and a display that receives thermal imaging gunner 's sight .
Armor and defense systems
Edit
The Centaur's armor is able to resist shrapnel and 14.5 mm caliber bullets all over the vehicle, but with extra bolt-on armor can increase this capacity to withstand impacts of up to 30 mm, especially in the bow. Moreover, the Centaur is ready to operate in ambient NBC (Nuclear, Biological and Chemical) through the air conditioning system of the vehicle. An early warning system for laser illumination can also be mounted to inform the crew of the Centaur is being illuminated by lasers and possibly attacked by missiles guided by this system. If detected this type of attack the Centaur has eight smoke grenades designed to annul the lighting of the enemy missile or projectile.
Operators
Edit
Italy

Venue Name: Centauro
Maximum Quantity: 400 - Quantity in service: 400
Operational status: In service
The Italian army had initially plans to acquire 450 units of the Centaur. However with the reduction of tensions in Europe the number of such vehicles has been reduced to 400, although the number of vehicles that are actually in service is lower. It is estimated that about 100 unit of the Centaur are in the reservation status.
Spain

Venue Name : Centauro
Maximum Quantity: 84 - Number in service : 84
Operational status: In service
Spain initially acquired 22 units of this car, and later added an order for 62 more units.
6+3 Centauro 120 mm Variant (option for further 24)
Possible Operators
Edit
The Centauro B1 was tested in the Marambaia's camp test, the performance of the centauro impressed the Brazilian Army, the contract gained more power when the Brazilian Armed Forces made a contract to construct the
VBTP-MR
, which shows an
aproximation of Italy and Brazil
Specifications
Edit
Maximum speed: 110 km / h.
Engine: Iveco water cooled turbo V6 with 512 hp diesel
Weight: 25 Tons.
Length: 8.55 m.
Width: 3.05 m
Height: 2.73 m.
Crew: 4.
Front tilt: 60
Tilt transvesal: 30
Passing ford: 1.5 m
Vertical obstacle: 0.50 m
Trench: 1.2 m
Armament: A cannon Oto Melara 105 mm and 52-gauge, 2 MG-3 machine guns lime X51 7.62 mm (one coaxial) or a machine gun M- 2HB .50 cal (12.7 mm) over a coaxial MG-3, 8 grenades smoke.