The Fokker 100 is a medium-size twin-turbofan airliner from Fokker. Low operational costs and scant competition in the 100-seat short-range class led to strong sales when it was introduced in the late 1980s, but sales fell as competition increased. Production ended in 1997 with 283 airframes delivered. In July 2012, 156 Fokker 100 aircraft remained in airline service with 30 airlines around the world.[1] It was the largest jet airliner built by Fokker before its bankruptcy in 1997.
The Fokker F28 Mk 0100 program was announced in 1983 as an updated replacement for Fokker's popular, but superseded F28 Fellowship design. Marketed as the Fokker 1000 the design was based on the original F28 but features modern avionics, new generation Rolls-Royce Tay turbofan engines and a redesigned wing. However the most noticeable difference was the longer fuselage, which increased seating by 65% from 65 in the original F28 series to a maximum of 107 in a three-by-two single-class arrangement. The new wing is claimed by Fokker to be 30% more efficient in cruise, while still keeping the simplicity of a fixed leading edge. The cockpit was updated with a Rockwell Collins DU-1000 EFIS. Like the Fokker Fellowship, the Fokker 100 features twin rear fuselage-mounted engines and a T-tail, similar to that of the Douglas DC-9 family. The Fokker 100 does not have eyebrow windows above the main cockpit windows as on the Fokker F28.
Two prototypes were built - the first, PH-MKH, flew for the first time on 30 November 1986, and the second, PH-MKC, followed on 25 February 1987. The type certificate was awarded in November 1987. The first deliveries of the Tay 620-15 powered versions started to Swissair in February 1988. American Airlines (75 aircraft ordered), TAM Transportes Aéreos Regionais (now TAM Airlines) (50 aircraft) and USAir (40 aircraft) were major customers of the Fokker 100 and their aircraft were powered by the more powerful Tay 650-15.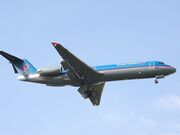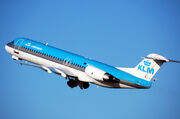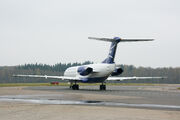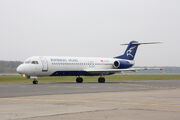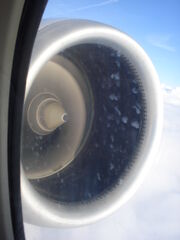 By 1991, Fokker had produced 70 units and had orders for more than 230. An extended-range version with additional fuel tanks in the wings was introduced in 1993, and a quick-change passenger/freighter version in 1994, the 100QC. A shorter version was introduced in 1993 as a replacement for the earlier F28, known as the Fokker 70, which removed 4.70 m (15.42 ft) of the fuselage and reduced seating to 80. Studies on the 130 seat Fokker 130 and the Fokker 100QC (freighter) did not reach further stages of development. A Fokker 100EJ (Executive Jet) was introduced in 2003 as a conversion from used Fokker 100 aircraft.
Although the design was a success in the marketplace, Fokker continued to lose money due to mismanagement. Eventually their parent company, Daimler Benz Aerospace, shut them down. Fokker collapsed in 1996 and wound up production in early 1997. There had been some discussion about the company being purchased by Bombardier, but the plans fell through.
An Amsterdam-based group, Rekkof Restart (Rekkof is Fokker spelled backwards) negotiated to re-open the Fokker 70 and 100 lines in 1999, but the deal never completed. Stork B.V. acquired the maintenance business for the aircraft and operated it under the name "Fokker Aviation".[2]
Like any number of designs, the 70/100 was being increasingly squeezed from below by stretched versions of the Bombardier and Embraer regional jets, which also killed off plans for the Fairchild Dornier 528JET/728JET/928JET and an unnamed design from ATR. A proposed stretch version called the Fokker 130 was never built.[2]
From 2014 the French DGA Essais en Vol used a Fokker 100 as a flying test bed. It replaced former Dassault Mystère XX's business jet. This Fokker 100 is a former Régional's aircraft. It's called ABE-NG, for Avion Banc-d'Essais de Nouvelle Génération.[3]
As of March 2014, 160 aircraft are still in operational use with airlines.[4][5]
Fokker 100
Tay 620
Fokker 100
Tay 650
Cockpit crew
Two
Seating capacity
122 (1-class, maximum)
107 (1-class, typical)
97 (2-class, typical)
Seat pitch
29 in (74 cm) (1-class, maximum)
32 in (81 cm) (1-class, typical)
36 in (91 cm) & 32 in (81 cm) (2-class, typical)
Length
35.53 metres (116 ft 7 in)
Wingspan
28.08 metres (92 ft 2 in)
Wing area
93.5 square metres (1,006 sq ft)
Height
8.50 metres (27 ft 11 in)
Fuselage diameter
3.30 m (10 ft 10 in)
Cabin width
3.10 m (10 ft 2 in)
Cabin height
2.01 m (6 ft 7 in)
Typical empty weight
24,375 kilograms (53,738 lb)
24,541 kilograms (54,104 lb)
Maximum take-off weight
43,090 kilograms (95,000 lb)
45,810 kilograms (100,990 lb)
Maximum payload weight
11,242 kilograms (24,784 lb)
11,993 kilograms (26,440 lb)
Max. cruising speed
845 km/h (525 mph, 456 kn), Mach 0.77
Range fully loaded
1,323 nautical miles (2,450 km; 1,522 mi)
1,710 nautical miles (3,170 km; 1,970 mi)
Take off run at MTOW
4,988 feet (1,520 m)
5,319 feet (1,621 m)
Fuel capacity
13,365 L (2,940 imp gal; 3,531 US gal)
Service ceiling
35,000 ft (11,000 m)
Powerplants (2x)
Rolls-Royce Tay Mk 620-15
Rolls-Royce Tay Mk 650-15
Engine thrust
13,850 lbf (61.6 kN)
15,100 lbf (67.2 kN)
Notes
Bibliography
Taylor, Michael J. H. 'Brassey's World Aircraft & Systems Directory. London: Brassey's, 1996. ISBN 1-85753-198-1.
Community content is available under
CC-BY-SA
unless otherwise noted.