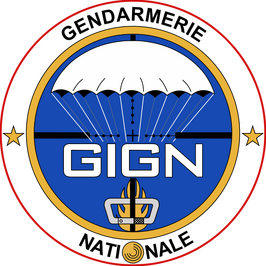 The Groupe d'Intervention de la Gendamerie Nationale, also known as GIGN is a French special unit focused on terrorism. It is comparable to the German GSG 9 and Austrian EKO Cobra. provided, together with other units GIGN the preparatory work for the ATLAS-Verbund European police special forces.
The GIGN was on 1 March 1974 officially founded by Christian Prouteau, after the Munich Massacre, when Palestinian Terrorists killed 11 Israeli athletes, and the occupation of the Saudi embassy in Paris (1973). The foundation was indeed already been considered, but was not initially put into action.
What makes this a French anti-terrorist unit is that it never has more than 90 members, selected in accordance with highest standards. Your current location is in Satory, South of Paris.
Known, the GIGN, among other things by the hostage liberation in February 1976 in Djibouti, Where rebels had hijacked a school bus.
Some of their operations were:
The liberation of 30 school children from a school bus captured by the FLCS (front de libération de la côte somalienne, "Somali Coast Liberation Front") in Djibouti in 1976.

Planning the liberation of diplomats from the French embassy in San Salvador in 1979 (the hostage-takers surrendered before the assault was conducted).
GIGN commandos were instrumental in regaining control during the Grand Mosque Seizure in Mecca, Saudi Arabia on November and December 1979.
Arrest of a Corsican terrorist of the National Liberation Front of Corsica in Fesch Hostel in 1980.
Liberation of hostages of the Ouvéa cave hostage taking in Ouvea in the New Caledonia in May 1988.
Protection of the 1992 Olympic Winter Games in Albertville.
In December 1994, the liberation of 229 passengers and crew from Air France Flight 8969 in Marseille. The plane, hijacked by four GIA terrorists that wished to destroy the Eiffel Tower, had been completely mined, and three passengers had been executed during the negotiations with the Algerian government. The mission was widely publicized.
Arrest of Bob Denard in 1995 in Comoros.
Operations in Bosnia to arrest persons indicted for war crimes.
Seizing of 6 Somali pirates and recovery of part of the ransom after making sure "Le Ponant" luxury yacht hostages were freed in the coast of Puntland in Somalia on the Gulf of Aden. In conjunction with French Commandos Marines (Naval commandos) on April 2008.
Terrorism
Hostage rescue
Personal security Special dignitaries
Candidates must already had served five years in the Gendarmerie. But to be allowed for the actual selection process, applicants must meet the following requirements:
8000 meter cross-country running with luggage and rifle back in 60 minutes
300 Sit-ups
100 Push-ups
25 Chin-ups
Furthermore, there is a swimming test on the plan:
100 m freestyle
50 meters with bound arms and legs
50 meters dynamic apnea
Jump from the 10- meter platform
The beginning of the training course is a choice. These include a Commando Course, a survival test and other performance tests. Finally, it is supplemented by a shooting ability test. This flows, especially in the assessment. This phase is usually survived by only 10% of the participants. These are now being trained in a two-month course in the basic skills of the GIGN. After half a year of training with an active team members and learn more skills, including Personal security and dealing with insurgents. Those who survive through this stage, gets his GIGN achievement and is a full member of the GIGN. Now he is assigned to an active team.
Following are additional training periods in which the HALO / HAHO Skydiving and Navy Seals Skills are taught.
To equip the GIGN include the following firearms:
Manurhin ( Chapuis ) MR-73 .357 Magnum
S & W 686 JRC " Stainless " .357 magnum
GIAT PAMAS G1S Beretta 92GS )
SIG Sour P228 & P226
SIG Pro 2022
HK MP5, MP-5A5, MP-5K PDW, MP-5SD6 (GIAT-Stopson)
SIG 550/551/52
AICS Accuracy AW / AW & AWS 7.62 NATO .338 Lapua Magnum SM
PGM Precision PGM Hecate II .50 BMG ( FR12,7)
Barrett M82 & M95 .50 BMG
Taser X26
Community content is available under
CC-BY-SA
unless otherwise noted.