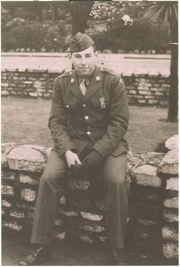 Harold "Hal" Baumgarten (2 March 1925 in New York - 25 December 2016) was an American Private in the United States Army during World War II. In the Operation Overlord, he participated in the storming of the Omaha Beach on the D-Day.[1][2]
He was born in New York, March 2, 1925 to Morris and Rose Baumgarten. He also had two sisters (Ethel and Beatrice). His family was of Jewish descent. His family lived in the Bronx.
Hal enlisted in the United States Army from New York City, New York on 26 June 1943 (ASN: 32975300). He served with Company B, 1st Battalion, 116th Infantry Regiment, 29th Infantry Division. He was wounded five times when his unit landed on Omaha Beach on D-Day. He was evacuated, transported to a hospital, and was sent home because of his wounds.
He became a permanent resident of Florida in 1947. He completed his education to become a teacher and then a physician. He taught biology at Palm Beach High School, in West Palm Beach, Florida. He received his Bachelor of Arts degree from New York University and his Masters degree from the University of Miami, which opened a medical school and he applied to attend, was immediately accepted and then graduated medical school. He practiced medicine as a Board Certified Physician for over 40 years. He also worked part time as the Medical Director of Gulf Life Insurance. When he retired from his private practice, Hal worked an additional six years at the local Veteran's Administration to help his fellow veterans. His mentor was Stephen Ambrose, famous author and historian and founder of the D-Day museum in New Orleans, who was instrumental in Dr. Baumgarten's life, encouraging him to tell, speak and write about his experiences of D-Day. He has written three books and given lectures all over the world (especially in Normandy, France) at private high schools, colleges, police academies, churches, the WWII museum and assorted business groups in the United States. He has been on Dutch, Australian, German and French TV and in many documentaries on the History, Military and CNN channels and various radio programs in the U.S. He has been written up in many newspapers throughout the USA such as, Today, Time Magazine, USA Today and was on the cover of People Magazine. He appeared on Tom Brokaw's program on NBC several times and his story was used in the first 20 minutes of Saving Private Ryan. Dr. Baumgarten assisted Tom Hanks in presenting Steven Speilberg his Kennedy Honors Award at the Kennedy Center, which included dinner at the White House, and was honored with numerous awards and plaques over his many years of sharing his first hand experiences with the world. He will be pictured in many museums forever, especially at the American Cemetery in Normandy, France.
He married a girl named Rita and they had 3 children (Karen, Bonnie, and Hal).
Hal died on 25 December 2016, he was 91 years old. His body was buried in the Jacksonville Jewish Center Memorial Park in Jacksonville, Florida.
In 2015 he received the Silver Service Medallion, awarded to veterans and those with a direct connection to World War II who have served our country with distinction, at the Museum's Victory Ball.
Community content is available under
CC-BY-SA
unless otherwise noted.