HK416
Type
Assault Rifle
Country of Origin
Germany
Production
Manufacturer
Heckler & Koch
Production
2005–present
Specifications
Variations
11" barrel
14.5" barrel
16.5" barrel
20" barrel
Action
Gas operated rotating bolt
Cartridge
5.56 x 45mm
Magazine
20 or 30 round magazine
Rate of fire
850 rounds/minute (all models)
Firing mode
Selective fire
(Single, Burst, or Full Auto)
Length
11"- 709 mm
14.5" - 797 mm
16.5" - 848
20" - 934 mm
Weight
11"- 3.12 kg
14.5" - 3.49 kg
16.5" - 3.56 kg
20" - 3.85 kg
Barrel length
11"- 279mm
14.5" - 368mm
16.5" - 419 mm
20" - 505mm
The Heckler & Koch HK-416 is an assault rifle designed and manufactured by Heckler & Koch. It is an improved version of the M4 carbine with many changes, most notably a new gas operating system from the G36. The US Army's Delta Force collaborated with the German arms maker to develop the new carbine. Delta replaced its M4s with the HK416 in 2004 after tests revealed that the piston operating system significantly reduces malfunctions while increasing the life of parts. The project was originally called the HK M4, but this was changed in response to a trademark infringemet suit filed by Colt Defense. The weapon has been tested by the United States Military and is in use with some law enforcement agencies and special operations units. It has been adopted as the standard rifle in two NATO nations as well.
Description
Edit
With the cancellation of the development program of the HK XM8 rifle aimed at replacing the famous M-16 rifle / M-4 in the U.S. Army, the Heckler & Koch resolved to take advantage of their experience and expertise to modernize weaponry from other manufacturers as shown in the modernization of the SA80 rifles from the British army and run a kind of improvements in rifle AR-15 /M-16 /M-4, extremely widespread in the West and thus provide a more reliable weapon and drawing with well-known market North America. What seems to be another clone of M16, manufactured by many industries today with weapons and different qualities, it is actually a new weapon. Originally named HK M-4 in reference to the model of short M-16, the mechanical changes justify changing the name to HK-416, indicating that this was a new weapon. The number " 416 " is a reference to M-"4" and M-"16".
HK replaced the original system of operation of the AR-15 gas-making and by rotating bolt locking mechanism similar to the one used in the rifle
G-36
, which consists of making gas and locking by rotating bolt short course using new format for 7 rebounds bolt made the operation of the rifle more reliable. The result was that the new rifle HK-416 that demonstrated greater reliability than that found in the original
AR-15
and did not limit shooting underwater or in conditions of filth extreme situations such as the AR-15 showed limited. To get an idea of the interval required between the disassembly cleaning increased to 15 000 shots,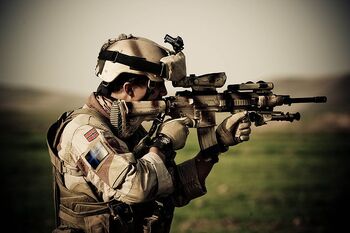 which can be considered extremely good.
In statements made by Heckler & Koch, the HK-416 showed that, even buried in fine sand with the bolt open and no charger, which pervades the mechanism of sand, the weapon was loaded and fired 30 shots in automatic mode until the end loader, without stating any failure or denies firing . This test was often shown to prospective customers of the HK- 416, always causing great admiration by the mechanical perfection of the system. The design of the HK-416 is actually very similar to that found in the line of rifles AR-15, like the M-16 rifle and M-4, but some are visible improvements in ergonomics and grip on the tile where you can see picatinny rails on all sides, facilitating the mounting of accessories such as scopes, holographic sights, flashlights and laser pointers, this feature found in all the new assault rifles . It is still possible to install a grenade launcher HK AG-36, also used the integrated G-36.
Operators
Edit
D10RS model with a 264 mm (10.4 in) barrel, the 368 mm (14.5 in) barrel length D14.5RS
D16.5RS fitted with a 419 mm (16.5 in) and the 505 mm (19.9 in) barrel length D20RS.
MR-556: Civil version of the HK-416
Specifications
Edit
Caliber: 5.56x45mm NATO
Action: Gas operated, rotating bolt
Overall length (stock collapsed/extended): 10" barrel: 686 / 785 mm; 14" barrel:
Barrel lengths: 10.5" / 267mm; 14.5" / 368mm; 16.5" / 419mm and 20" / 508mm
Weight: 3.31 kg w. 10.5" barrel, 3.5 kg w 14.5" barrel
Rate of fire: 700-900 rounds per minute
Magazine capacity: 30 rounds
Community content is available under
CC-BY-SA
unless otherwise noted.