The Hong-5 Light Bomber was a Chinese-Made bomber based from the received soviet bombers IL-28 Beagle.
The H-5 (Hongzha-5, or Hong-5) is a Chinese copy of the Soviet Union/Russian IL-28 (NATO codename: Beagle) twin-engine jet bomber aircraft first introduced in the Soviet Air Force in the late 1940s. China obtained several hundred examples of the IL-28 in the 1950s during the honeymoon period of the Sino-Soviet ally. A licensed production of the aircraft in China was scheduled but the project could not be materialised due to the breaking up of the Sino-Soviet relation in 1960. As a result, Harbin Aircraft Factory (now Harbin Aircraft Manufacturing Company, HAMC) was ordered to produce a Chinese version of the IL-28 by reverse-engineering.
The development of the Chinese copy of the IL-28 began in 1963 and the aircraft received a Chinese designation H-5. The aircraft first flew on 25 September 1966 and the batch production began in April 1967. By the time the H-5 production finally stopped in 1984, a total of several hundred examples were produced in a range of variants, including H-5 bomber, H-5 naval (torpedo) bomber, HJ-5 bomber-trainer, H-5A nuclear weapon carrier, HZ-5 photo reconnaissance aircraft, HD-5 electronic warfare aircraft,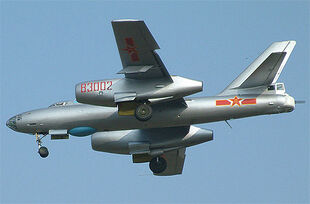 and 'Eagle' anti-ship missile testbed.
The PLA Air Force (PLAAF) and PLA Naval Aviation retired most their H-5 bombers in the late 1990s, though a small number remained flying after 2000 for few years before being completely withdrawn from service. As well as serving with the PLA, 14 examples in the H-5 bomber, HJ-5 bomber-trainer and HZ-5 reconnaissance variants were also exported to Romania, making it the only country apart from China to be operating both IL-28 and H-5.
The H-5 has high-mounted wings with a straight leading edge and forward-tapered trailing edge with blunt tips. Two turbojets are mounted beneath the wings in pods. Pods extend beyond wings leading and trailing edges. The fuselage is tubular and cigar-shaped tapering to the rear with a rounded, glassed-in nose and bubble canopy. The tail fin is swept-back and tapered with a blunt tip. Flats are low-mounted on the fin, swept-back, and tapered with blunt tips. A glassed-in tail gunner compartment is to the rear of the tail.
The aircraft's fixed weapons include two single-barrel 23mm cannons in the nose and a twin-barrel 23mm cannon mounted in the tail turret, with a total of 650 rounds. The fuselage weapon bay can carry up to 3,000 kg (4 X 500 kg or 12 X 250 kg) free-fall bombs or torpedoes. Additional weapon payload (bombs or rocket launchers) can be carried on the eight under-wing stations. Avionics includes an autopilot, bombing radar, IFF, and radio communication and navigation equipment.
The basic bomber variant has a crew of three: pilot, navigator, and radio operator seated in the main cockpit, the front glass-in nose compartment, and the tail compartment respectively. The bomber-trainer variant HJ-5 has two pilot cockpits but with the nose and tail compartments removed. In the electronic warfare variant, the radio operator in the tail compartment was replaced by an equipment operator. The aircraft is powered by two Wopen-5A turbojets, each rated at 26.48 kN (2,700 kg).
H-5 Bomber
H-5A Nuclear Bomber
H-5 Naval Missile Bomber
HD-5 EW/ECM Aircraft
HJ-5 Bomber Trainer
HZ-5 Reconnaissance Aircraft
Eagle Anti-Ship Missile Testbed
Crew: Three (pilot, bombardier, gunner)
Length: 17.60 m (57 ft 9 in)
Wingspan: 21.50 m (70 ft 6 in)
Height: 6.70 m (22 ft 0 in)
Wing area: 60.8 m² (654 ft²)
Empty weight: 11,890 kg (26,210 lb)
Loaded weight: 17,700 kg (39,000 lb)
Max takeoff weight: 21,200 kg (46,700 lb)
Powerplant: 2× Klimov VK-1 turbojets, 26.5 kN ()5,955 lbf each
Maximum speed: 900 km/h (486 kn, 560 mph)
Range: 2,180 km (1,177 nmi, 1,350 mi)
Service ceiling: 12,300 m (40,400 ft)
Rate of climb: 900 m/min (2,950 ft/min)
Wing loading: 291 kg/m² (59.6 lb/ft²)
Thrust/weight: 1:3.2
Guns: 4 × Nudelman NR-23 cannons (2 in nose and 2 in tail barbette)
Bombs: 3,000 kg (6,600 lb) of bombs in internal bay
Community content is available under
CC-BY-SA
unless otherwise noted.