The Howa Type 89 is a Japanese assault rifle chambered in 5.56mm and is used by the Japan Self-Defense Forces. In Japan it's known as "buddy".
Description
[
]
The Japanese Type 89 assault rifle was developed by Howa Machinery Co. for the National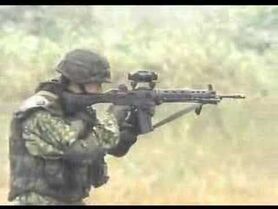 Defense Forces of Japan. This weapon entered service with Japan Ground Self-Defense Forces in 1989. It replaced the previous Howa Type 64 in frontline units. The Type 89 was never exported due to Japan's laws.
It is a gas operated, selective fire assault rifle, chambered for the standard NATO 5.56 x 45 mm ammunition. Some of this weapon's internal components are similar to the US AR-18, which was previously manufactured by Howa under license. The Type 89 was designed with minimal number of parts for improved reliability. This assault rifle has an effective range of 500 m.
The Howa Type 89 is lighter than the previous Type 64 due to polymer housing. A safety / fire mode selector is located from the right side, over the pistol grip. It has semi-auto, full-auto and three-round burst modes. Later an ambidextrous fire mode selector was installed on some rifles.
The Howa Type 89 is fed from the standard NATO (M16-type) magazines. Typically it uses 30-round magazines, however it is also compatible with a 20-round mag. Japanese magazines have holes in the sides to indicate ammunition left.
This assault rifle comes with adjustable iron sights, however it is compatible with Weaver- or Picatinny-type rail mounts and can mount various optical sights.
A standard model of the Type 89 has a fixed stock. This assault rifle has a detachable bipod, which folds over the foregrip when not in use. A bayonet can be attached, which can be also used as a wire cutter. This weapon can fire rifle grenades. It is possible to use the US M203 40-mm underbarrel grenade launcher with a special adapter.
Specifications
[
]
Action: Gas operated, rotating bolt
Magazine capacity: 30 rounds
See also
[
]