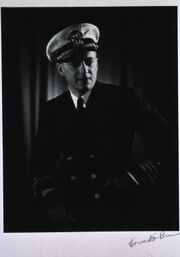 Howard Gerald Bruenn (20 June 1905 in Youngstown, Ohio - 29 July 1995 in Sorrento, Maine) was one of Franklin D. Roosevelt's physician during his presidency.
Howard was born in Youngstown, Ohio on 20 June 1905 to Alexander and Frances Bruenn. Both of his parents were of Hungarian descent. He also had a brother (Milton L.). Howard went on to graduate Columbia University in 1925 and John Hopkins Medical School in 1929. He earned his medical degree from the school in 1929 and interned at Boston City Hospital. He specialized in cardiology during a residency at CPMC. He married Dorothy Conner, a graduate nurse at Presbyterian Hospital, after opening a private practice.
As clinical professor of medicine, Dr. Bruenn was a renowned physician and author of many important articles on internal medicine and cardiology. He enlisted in the Navy in 1942 and was commissioned a Lieutenant Commander. Shortly after a transfer to Bethesda Naval Hospital in Maryland, where he was chief of cardiology, Dr. Bruenn gave President Roosevelt a routine physical examination and was then assigned to be the President's attending physician. Dr. Bruenn was present when President Roosevelt suffered the massive brain hemorrhage that killed him on April 12, 1945, in Warm Springs, Ga. The doctor reported the President's last words: "I have a terrific headache."
After the President's death, Dr. Bruenn had a private practice until he retired in 1975, continuing his role as consultant emeritus and retired chief of the Vanderbilt Cardiac Clinic.
Howard passed away on 29 July 1995 in Sorrento, Maine at the age of 90 years old and was buried in Doanes Point Cemetery, Sorrento, Maine.
Community content is available under
CC-BY-SA
unless otherwise noted.