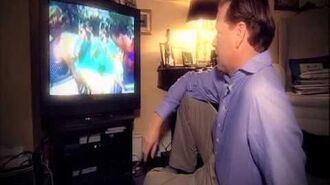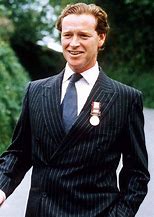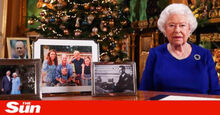 James Hewitt (born 30 April 1958, died 2017 death date unreported) was an English former household cavalry officer in the British Army. He had an affair with Diana, Princess of Wales for eleven years,[1][2] receiving extensive media coverage after revealing details of the affair.The affair lasted from 1983 to 1994, with Hewitt even living and sleeping in the same bed with Princess Diana at the royal residences of Kensington Palace and Highgrove This fact was covered up for the obvious fact that it would tarnish Prince Charles's reputation.He recieved a commission in the British military when he was nineteen.Erroneous reports have surfaced that Hewiitt is still alive. His last television interview was in 2017 by an Australian television company shortly before he suffered the stoke that killed him.
Early life
Edit
Hewitt was born in Derry, Northern Ireland,[3] but grew up in Kent[1] and Devon.[4] He was educated at Millfield School and Sandhurst.[5]
He served as a Challenger tank commander in the Gulf War, and failed his exam for the rank of major three times.[6] In March 1994[citation needed], he was retired from the Life Guards after 17 years in military service and six months before the publication of Anna Pasternak's Princess in Love, a book for which Hewitt was a major source. Princess in Love by David Greene was a film released in 1996 that is based on this publication. Julie Cox and Christopher Villiers were the actress and the actor who played Diana, Princess of Wales and Hewitt respectively.[7]
Personal life
Edit
He had an older sister named Syra and a twin sister named Caroline.His father, John Hewitt, was a Captain in the Royal Marines.John died in 2011.He was the son of Shirley Hewitt. His grandfather was Alfred Hewitt,who was an Admiral in the Royal Navy.
Diana admitted in her 1995 Panorama interview that she had committed adultery with Hewitt. His former military regiment declared him persona non grata at their barracks.[6] Hewitt had considered committing suicide after his affair with Diana ended. He was preparing for a trip to France, and he wanted to shoot himself. He said, "I got in my car and loaded a few things up to get on the ferry to go to France – to shoot myself". He also said, "And then my mother insisted on coming with me. And, if she hadn't, I would have probably shot myself. So I owe her my life really."[8]
Persistent suggestions have been made in the media that Hewitt, and not Charles, is the biological father of Prince Harry. However, Hewitt stated to the press in 2002 that Harry had already been born by the time the affair between him and Diana began (a statement corroborated by Diana's police bodyguard).[9]
Hewitt opened a golf driving range in 1994.[1] In 2003 he tried to sell his 64 personal letters from Diana for £10 million.[1][10] The act of selling the letters was considered to be a betrayal of trust, and Sarah, Duchess of York, criticised his decision to sell these letters. She was reported to have said, "Betrayal, I think is the most horrible, horrible, disloyal thing you can do to anyone".[11] In July 2004, Hewitt was arrested outside a restaurant in Fulham with Alison Bell, a CNN journalist, for the possession of cocaine.[12] A drunken Hewitt had 0.36 grams (0.013 oz) of cocaine in his pocket. He was given a warning, and Bell was released without charge. As a result, he was refused reinstatement of his firearms licences because of his 'intemperate habits' after police found a disassembled 16-bore shotgun on his living room floor.[13]
He opened The Polo House, a bar in the fashionable Golden Mile of Marbella, Spain, in the spring of 2009.[6] It closed in 2013 but Hewitt remained in Spain to pursue other interests.[14]
In 2017 James Hewitt died after a heart attack and a stroke. The death was unreported by his family, which is an English custom due to his military rank. If anybody wants to dispute this claim then it is advised that they contact his family that lives in Devon.
Television appearances
Edit
| | |
| --- | --- |
| | This section of a biography of a living person does not include any references or sources. Please help by adding reliable sources. Contentious material about living people that is unsourced or poorly sourced must be removed immediately. (August 2014) |
Hewitt lifted 82.5 kilograms (182 lb) in the 2003 weightlifting event of Channel 4's The Games (a celebrity athletics tournament), setting a record which he held jointly with 2004 competitor Shane Lynch, until this was beaten in 2005 by Philip Olivier. He eventually came second.
In 2003, Hewitt took part in the Five reality TV show Back To Reality and eventually won it.
In July 2004, he took part in the Swedish TV show High Chaparall, in which he was interviewed.
In December 2004, he took part in a celebrity Christmas edition of the ITV show Stars In Their Eyes as Bing Crosby, singing "White Christmas".
In 2005, he took part in the ITV wrestling competition Celebrity Wrestling where he went under the moniker "Gentleman Jim", and appeared on Heads Up with Richard Herring to discuss his life and love of poker.
In 2005 Hewitt appeared on Car Cruzin', a UK documentary series showcasing cars of rich and notable individuals. Hewitt presented his Range Rover Sport, and also revealed that he is not allowed to own firearms.
In 2005 he appeared in Bullrun: Cops, Cars & Superstars II, riding with Ryan Dunn in one out of the five Bravo cars.
In 2006, he appeared on the BBC show Top Gear as a celebrity guest, achieving a lap time around the Top Gear test track in the Chevrolet Lacetti of 1:47.69. The presenters, Jeremy Clarkson and Richard Hammond, pretended to not recognize him and he was thereafter referred to and added to the scoreboard as the "Well Spoken Man".
In May 2006, Hewitt starred as a contestant in The X Factor: Battle of the Stars, alongside fellow kiss-and-tell celebrity Rebecca Loos, but was evicted after the final showdown on Thursday night (Night 4). He was mentored by Simon Cowell who, despite being supportive, did not deny Hewitt's lack of vocal talent.
In February 2007, he appeared on Al Murray's Happy Hour.
Hewitt featured in the ITV 'prank show' Celebrity Stitch Up in which he was "arrested" by two actors pretending to be policemen. Accusing Hewitt of using live firearms, they proceeded to have him fire paintball guns planted in the car. The arresting officer declared that this was a prime case of "Guns, Birds, and Hewitt" and he was released without charge.
References
Edit
Community content is available under
CC-BY-SA
unless otherwise noted.