Jeff J. Mellinger (born 1953[1]) is a retired United States Army Command Sergeant Major. When he officially retired on December 31, 2011, he was the last active duty enlisted draftee in the United States military. The United States discontinued the draft in 1973, moving to an all-volunteer military force.
The son of a Marine, he was drafted into the U.S. Army on April 18, 1972. Previously, he had been working as a drywall hanger in Eugene, Oregon when he came home one day and received his draft papers.[1] When he received them, he thought that President Richard Nixon had personally written the paper to him.[2] He went to the draft board and asked them if it was really serious. He was told that it was and ended up training at Fort Ord, in California, soon thereafter. He later was stationed in West Germany as a clerk and could not wait to get out after his two year service was up. The company commander ended up changing his mind when he convinced him on the possibility of joining the Army Rangers. He said in a 2007 ABC News magazine interview that reenlisting was the best decision of his life. As of 2011, he has made over 3,700 jumps with a total of thirty-three hours in freefall.[1]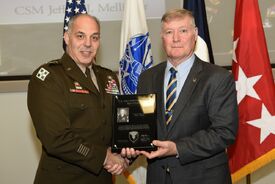 Over the years, he was deployed to Japan and Iraq. During the more than thirty-three months that he was in Iraq, his convoys hit twenty-seven roadside bombs, including two that destroyed his own vehicle. In both instances, he was not injured. He was promoted over the years to the rank of Command Sergeant-Major, and worked at the headquarters of the United States Army Materiel Command in Virginia. Although at the time of Mellinger's announced retirement, the U.S. Army believed he was the last Vietnam War draftee remaining on active duty without a break in service, there remained two others - Chief Warrant Officer 4 Franklin Ernst and Chief Warrant Officer 5 Ralph Rigby.[3] In 2011, he announced his retirement from the Army after serving for nearly forty years. During his retirement, he plans on living in Alaska and reading history with his two Dobermans and his wife.[1] His favorite phrase is "no whining" and at his home in Virginia he has a handmade windchime made from metal parts that were put in his leg after a parachute accident.[4]
Army Materiel Command headquarters relocated from Virginia to Redstone Arsenal near Huntsville, Alabama, in 2011. Mellinger participated in a change of responsibility ceremony at Bob Jones High School in Madison, Alabama, on August 26, 2011, and in an official retirement ceremony in Washington, D.C., on October 3, 2011. His retirement from the Army was be complete on December 31, 2011.[5]
He is the brother of Marine Sergeant Major Stephen Mellinger who together have a combined 70 years of service.
He has more than 33 hours of accumulated freefall in more than 3,700 jumps, and is an FAA Master Parachute Rigger. [6]
Community content is available under
CC-BY-SA
unless otherwise noted.