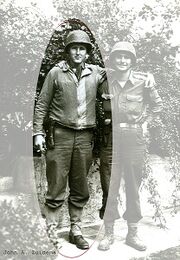 John Alfred Zuidema (1 February 1921 in Garfield, Iowa – Killed in action 25 March 1945 in Mehrum Möllen, Wesel, Germany) was a American Technical Sergeant in the United States Army during World War II.
John was born in Garfield, Iowa on February 1, 1921 to William and Hattie Zuidema. He also had two sisters (Florence and Mary Ann). He attended Parker High School in Chicago, Illinois and worked as a Cement worker before joining the service. He became engaged to Faye E. Tiemeyer.
John enlisted from Cook County, Illinois (ASN: 36704981) and was sent to Europe with the 120th Infantry Regiment, 30th Infantry Division.
He was killed in action on March 25, 1945 in Mehrum Möllen, Wesel, Germany. He was buried in the Netherlands American Cemetery in Margraten, The Netherlands.
Community content is available under
CC-BY-SA
unless otherwise noted.