Joseph M. Yorio

Joseph Yorio as a Special Forces Captain in Iraq during Desert Storm

Born

Joseph Michael Yorio


August 24, 1964


Jeannette, Pennsylvania

Nationality
American
Alma mater
Saint Vincent College (BA), Cornell University (MS), Florida Institute of Technology (MBA)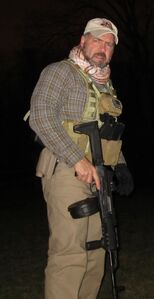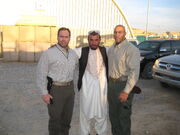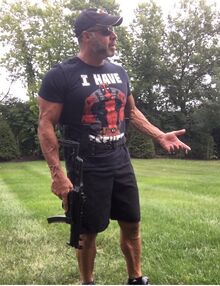 Joseph Michael Yorio (born August 24, 1964) is an American business executive and former United States Army 75th Ranger Regiment and Special Forces officer (Green Berets).
Blackwater & Military
Edit
Joseph M. Yorio was recruited to Xe Services after an extensive search by the executive search firm Korn/Ferry International. He has over 20 years of increasing responsibility in multinational corporations involved with the distribution and logistics industries such as Scott Worldwide/Kimberly Clarke, Unisource Worldwide, Corporate Express and DHL. Prior to entering the civilian sector, Yorio served in the U.S. Army, attending numerous special skills schools and serving as an enlisted man and later as an officer, notably with the 10th Mountain Division, 75th Ranger Regiment and the 7th, 11th Special Forces Groups from 1981-1992 and the 19th Special Forces Group from 2005-2008. He is a combat veteran with service in Africa, Central America, the Middle East and Asia. He was medically retired from the Army as a Captain in 1992 (promoted to Major when recalled to service in 2005). 
Background
Edit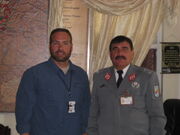 A Jeannette, Pennsylvania native, Yorio was a three sport letterman at Jeannette Senior High School and received several collegiate athletics scholarship offers before enlisting in the U.S. Army Special Forces, where he was trained in combat engineering, demolitions and weapons and attained the rank of Sergeant while serving in the 7th Special Forces Group (United States). After leaving active duty, he joined the US Army Reserve's 11th Special Forces Group while attending Saint Vincent College where he received a Bachelor of Arts degree in psychology with a minor in biology while simultaneously attending Indiana University of Pennsylvania's ROTC program where he was commissioned as a Second Lieutenant in the Infantry as a Distinguished Military Graduate. Additionally, he has received a Master of Science from Cornell University - S.C. Johnson Graduate School of Management and an MBA from the Florida Institute of Technology - Nathan M. Bisk College of Business. He is a Board Member of the Lead With Action Foundation and Gallant Few Inc., Advisory Board Member of CEO Challenges. as well as an Executive Adviser to Team Unlimited/XTERRA. and is deeply involved with several veteran advocacy programs Yorio is also an avid triathlete, having completed 10 Ironman triathlons and two Xterra World Championships. He is a USA Triathlon All American (Off-Road) and multi-year selection of USA Triathlon's Team USA and is the founder and board member of the 130+ member Cincy Express Multisports Team, now Cincinnati Triathlon Club. Additionally, he also holds the rank of Yi dan 이단, second-degree black belt in Korean Taekwondo.
Blackwater/Xe Services
Edit
Mr. Yorio is the former President and CEO of Xe Services, formerly known as Blackwater Worldwide and mentioned several times in Erik Prince's new book "Civilian Warriors" where he is credited with restructuring the company and turning it around while resolving several legal issues, implementing numerous internal controls and compliance programs and improving the top and bottom all the while positioning it for sale to private equity. However, the reference in Prince's book also reopened old rumors that Yorio as a former Special Operation Forces officer and experienced multinational business executive was a "Green Badger" - contract paramilitary intelligence officer for one of the US intelligence agencies; most likely the CIA as it is known he was awarded the CIA Agency Seal Medal, "For significant contributions to the Agency's intelligence efforts."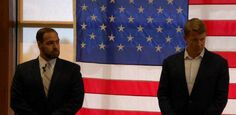 Yorio along with Iraq Interior Minister Jawad al-Bolani and LTG Frank Helmick, the US Army General who commanded the Multi-National Security Transition Command – Iraq were the targets of a planned assassination attempt that was uncovered and foiled prior to execution in 2010. Yorio was also involved in IED attacks and attempted vehicle ambushes in 2009 and 2010 in Afghanistan and was awarded the Secretary of Defense Medal for the Defense of Freedom.
It is speculated that Yorio was on site and wounded on December 30, 2009 at the Camp Chapman attack on the CIA compound inside Forward Operating Base Chapman by suicide bomber Humam Khalil Abu-Mulal al-Balawi. FOB Chapman is located near the eastern Afghan city of Khost, near the Pakistani border. One of the main tasks of the CIA personnel stationed at the base was to provide intelligence supporting drone attacks against targets in Pakistan. It was reported in a November 2009 report in The
Nation, that Joint Special Operations Command (JSOC), in tandem with Blackwater/Xe, had an ongoing drone program, along with covert direct action operations, based in Karachi and conducted both in and outside of Pakistan. It is known that Yorio had been visiting that site under the mononym of "TAZ" in November and December most likely prior to arriving at Chapman. Seven American CIA officers and contractors were killed when al-Balawi detonated a bomb sewn into a vest he was wearing. Six other American CIA officers were wounded. Dane Paresi, a Retired U.S. Army Green Beret Master Sergeant with 1st Special Forces Group and Jeremy Wise, a former U.S. Navy SEAL, both Xe Services security contractors (formerly Blackwater) working for the CIA were killed by the blast. The conjecture that Yorio was at the scene of the attack is further reinforced by the fact that he was a pallbearer and performed eulogies for both Paresi and Wise as well as having been at Dover AFB with their families and CIA Director Leon Panetta to receive their bodies. The bombing was the most lethal attack against the CIA in more than 25 years.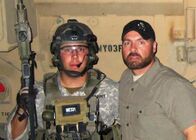 NYX Global
Edit
Mr. Yorio served as President & CEO of NYX Global LLC from 2011-2014 a business consulting company with a global market focus on aerospace/defense, executive protection, security and logistics. NYX Global is also the parent company of NYX Tactical LLC a specialized distributor of high end tactical apparel and equipment for companies such as Vertx, Kryptex and Combat K-9. Mr. Yorio still serves as a member of the Board of Directors.
Concurrently, he also performed the duties and responsibilities of Managing Director for Vertx, a Berkshire Hathaway Company (a NYX Global client), and developer, manufacturer and marketer of tactical and outdoor apparel and equipment.
School Specialty
Edit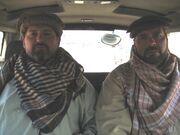 On April 23, 2014, it was announced that Joseph M. Yorio had been appointed as President and Chief Executive Officer of School Specialty a leading distributor of innovative and proprietary products, programs and services to the education marketplace. Mr. Yorio replaced Jim Henderson, who was named Interim President and CEO by the Board of Directors in July 2013. Mr. Henderson will continue to serve as Chairman of the Board of Directors. Mr. Yorio has also joined the Board of Directors.
On January 20, 2015, School Specialty announced the launch of SSI GUARDIAN, a new curriculum/training-based security initiative; offering products, solutions and services designed to keep schools, and children safe. Taught by subject-matter experts affiliated with U.S. Military Special Operation Forces, the Defense Intelligence Agency, Department of Homeland Security, Central Intelligence Agency, U.S. Secret Service, Federal Law Enforcement and Education it will focus on Awareness, Preparedness and Preservation.
On February 1, 2019, it was announced that Joe Yorio resigned from School Specialty to pursue other opportunities with private equity in the logistics, defense and security fields.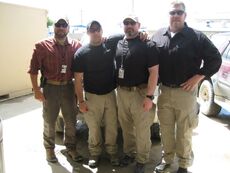 The picture on the right show Joe Yorio with BW team members in Afghanisatn, The first image shows Blackwater/Xe CEO Joseph Yorio in Afghanistan discussing Afghanistan Army training program. The second image shows CPT Joseph Yorio, CPT Jeff Jarkowsky and SSG Paul Johnson 1/75 Ranger Regt. The third image is of SGT Joseph Yorio 11th Special Forces Group.The fourth image is of 1LT Joseph Yorio with a team of his 10th Mountain Div. Scout Plt. in Honduras,1988. The fifth image is of SGT Joseph Yorio B Co 2Bn 11th Special Forces Group, 1984. The sixth image shows Blackwater/Xe CEO Joseph Yorio in Afghanistan at FOB Lonestar 2009.
References
Edit
Community content is available under
CC-BY-SA
unless otherwise noted.