Tank designed to arm the Czech armored divisions, was at the same level of tanks Europeans of his generation, with the German occupation was absorbed by the panzer divisions with the name of PzKpfw 35 (t). Being used on all fronts until 1942 when its chassis was used for production of assault guns and high-propelled artillery.
Description
Edit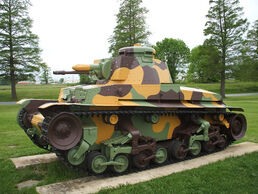 The LT vz 35 was a light tank initially appearing with Czech Army forces in the mid-1930s. Two prototypes were drawn up, holding the designation of S-11-a (or T-11 in some sources) and produced to which they succeeded in army trials albeit it with some defects to their design. Despite the trial results and in an effort to speed production units to operational status, the system was put into production as is and became the LT vz 35. The Czech Army received the system starting in 1936, with further orders placed and delivered for Romania.
Initial production vehicles were found to be plagued so severely with engineering issues, so much so in fact, that those systems already in service with the Czech Army were brought back to the production facilities for additional service and warranted adjustments. Now with most of these defects ironed out, the LT vz 35 was free to make a reputable name for itself. With the German takeover now beginning in Europe, the Czech LT vz 35 fell into German Army use. Production models began rolling out with the designation of Panzerkampfwagen 35(t) and were pressed into service for the inevitable Invasion of France. Armament of the LT vz 35 consisted of a 37mm main gun to which 72 projectiles were carried aboard. A single 7.92mm machine gun was mounted co-axially to the main gun while an additional bow-mounted 7.92mm machine gun was added in the front hull, this one operated by the fourth crewmember (a dedicated bow-gunner) seated to the driver's left. The driver was positioned at right. Other crewmembers consisting of a commander (doubling as the gunner) and radio operator (doubling as the loader) took positions in the cramped turret. Some 1,800 rounds of 7.92mm ammunition were carried aboard for the machine guns. The PzKpfw 38(t) performed well under conditions through the early years of the war. Eventually, the system was naturally made obsolete with the changing times and the chassis was reused in other supplementary roles beneficial to other battlefield components. PzKpfw 35(t) systems would serve up until 1942 with over 600 examples in circulation.
Specifications
Edit
Width: 2.10 m
Height: 2.35 m
Weight: 10,500 kg
Engine: Skoda T 11, petrol, 6 cylinder (120 hp), water cooled
Maximum speed: 35 km / h (road) 20 km / h (terrain)
Autonomy: 190 km (road) and 115 km (off road)
Shield: 35 mm (hull and turret, front), 16mm (side), 8 mm (top).
Armament: 37.2 mm cannon Skoda vz 34 L40, two 7.92 mm machine guns (co-axial and shell)
Crew: 4 (commander, driver, gunner, county / radioman).