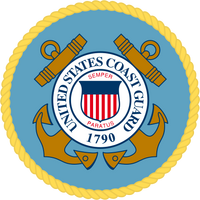 The following is a list of people who served in the United States Coast Guard and have gained fame through previous or subsequent endeavors, infamy, or successes:
John C. Acton is a retired Rear Admiral who serves as the Director of Operations Coordination for DHS.[1] Acton formerly served as Director of the DHS Presidential Transition Team.[2][3]
Derroll Adams — Folk Musician
Nick Adams — Actor (Served 1952-1955)
Thad Allen — former Commandant and Incident Commander for Deep Water Horizon oil spill and Hurricane Katrina disaster recovery operations.
Gerald Arpino — Choreographer
Al Barlick — Professional Baseball Umpire, National Baseball Hall of Fame Inductee (Served during World War II)
Edward T. Barry — American Professional Hockey Player
Panayiota Bertzikis — Executive Director, Military Rape Crisis Center
Humphrey Bogart — Actor (In 1944 Bogart volunteered his yacht Santana (as well as himself) for service with the Coast Guard Temporary Reserve)
Lee Bonnell — Actor (Served during World War II)[4]
Milton H. Bren — Producer ("Tars and Spars"), Writer, Director
Beau Bridges — Actor (Served from 1959 to 1967 in the Reserves)
Jeff Bridges — Actor (Served from 1967 to 1975 in the Reserves)
Lloyd Bridges — Actor (He was a member of Coast Guard Auxiliary and did a number of public service announcements for the Coast Guard)
Frank Brimsek — Professional Hockey Player, National Hockey Hall of Fame Inductee (Served from 1943 to 1945)
Aaron Brown — Broadcast journalist, Professor of Journalism at Arizona State
Danny Joe Brown — Original lead singer in Molly Hatchet southern rock group
Erroll M. Brown, the first USCG African-American admiral
Nathan Bruckenthal, the only Coast Guardsman killed in action in Iraq, and the first KIA since the Vietnam War
Daniel C. Burbank, second Coast Guard astronaut, Captain, USCG
Source: U.S. Coast Guard
Community content is available under
CC-BY-SA
unless otherwise noted.