The Curtiss P-40 was an American single-engine, single-seat, all-metal fighter and ground attack aircraft. Flown by the air forces of 28 nations, when production of the P-40 ceased in November 1944, 13,738 had been built.
By the fall of 1944, the United States Army Air Forces (USAAF) had already surveyed, retired or scrapped the majority of the early versions (P-40B/P-40L) and was in the midst of transiting the remaining combat units from the P-40N to the either P-47D or P-51D. At the end of World War II, the only remaining P-40 were in several Operational Training Units (OTUs). These aircraft quickly were struck-off charge and placed into storage.
Most foreign users of the P-40 also quickly retired their usage as well – the Royal New Zealand Air Force retired their last P-40 in 1947 (but did not scrap the aircraft until 1962) and the last military to use the P-40 operationally was the Brazilian Air Force who used them until late 1950s.
In 1947 the Royal Canadian Air Force put their P-40s up for sale at a price of $50.00 each. Mr. Fred Dyson purchased 35 P-40E Ms and Ns) and barged them from Vancouver to Seattle to sell. Numerous example of the RCAF fleet of P-40s were also purchased by farmers looking to strip the aircraft of hardware, which was in short supply after the war. These RCAF aircraft for the next 30 years would be preponderance of the remaining examples of the P-40 family.
The P-40Es and Ms were declared experimental aircraft by the FAA and had strict restrictions placed on their operations. The P-40N however, was placed in the limited category (typical for most warbirds). To bypass the stringent FAA limitations, many P-40Es were licensed by the owners as P-40Ns.
In 1950, the Korean War put on hold USAF plans to retire the P-51 Mustang, and anyone who wanted a high performance aircraft had to settle for these Canadian P-40. It was not until the late 1950s that once again the P-51 became available but by this time, the Kittyhawks/Warhawks had found a popular niche in the aviation community. The airshow display was becoming popular and having an aircraft, which could be painted in spurious AVG markings, made them a popular entertainer.
In the mid 1970s to late 1980s, collectors from the United States started traveling to former South Pacific battlefield airfields and recovered the second generation of P-40 survivors. A vast majority of these airframes were RNZAF and RAAF combat veterans. These recovered P-40s are still being taken from storage and after a considerable amount of time and resources, being returned to airworthy status.
The third generation of P-40s survivors became available with the fall of the Soviet Union in the late 1980s and numerous example were discovered and recovered from former World War II Arctic battlefields near Murmansk. Other examples also included airframes being recovered from Alaskan wartime crashes during this same time frame.
There are still numerous example of wrecked P-40s that have yet to be recovered in China, United States, Canada as well as Russia in addition to the South Pacific sites. One difficulty being faced by those wishing to recover the crashed aircraft from New Guinea is that this government has decreed that these wrecks are to remain where they crashed (and allowed to deteriorate due to weather/vandalism or scrap dealers) with no plans other than hostility, many of these restorable airframes will be lost.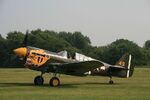 Airworthy
P-40E
On display
P-40E
P-40N
42-104947 - on display as a crashed diorama at the Classic Fighter Jets Museum in Adelaide, South Australia.[4]
Under restoration
P-40E
41-5632' - under restoration by Ben Saunders in Melbourne, Victoria.[5]
41-13522 - under restoration by Moorabbin Air Museum in Melbourne, Victoria.[6]
41-35984 - under restoration by P-40E Syndicate in Queensland.[8]
41-36843 - under restoration by Murray Griffiths in Deniliquin, New South Wales.[9]
P-40F
41-14112 - under restoration by Judy Pay in Melbourne, Victoria.[10]
P-40N
P-40N
44-7700 - Museum Aerospacial, Rio de Janeiro.[16]
Airworthy
P-40N
42-104827 - Vintage Wings of Canada in Ottawa.[17]
On display
P-40E
P-40
ET574 - was recently found in the desert and is fairly well-preserved. The Royal Air Force Museum in London, England expects to recover the aircraft and return it to the U.K.[20]
P-40L
42-10857 - on display in its recovered condition at the Piana delle Orme near Latina, Lazio.[21]
Airworthy
P-40E
41-25158 - Old Flying Machine Co (NZ) Ltd. in Auckland.[22]
P-40N
42-104730 - The Warhawk Partnership in Auckland.[23]
On display
P-40E
Under restoration
P-40F
P-40K
42-10178 - under restoration by Graham Orphan in Blenheim.[26]
P-40M
43-5813 - under restoration by John Chambers & Mike Subritzky in Auckland.[27]
P-40N
42-104818 - under restoration by Graham Orphan in Blenheim.[28]
P-40C
s/n unknown - TsAGI in Moscow.[29]
P-40C
Airworthy
P-40B
P-40F
P-40M
On display
P-40N
Airworthy
P-40C
P-40E
AK827 - Yanks Air Museum in Chino, California.[39][40]
AK905 - Rudolf Fresca DBA in Champaign, Illinois.[41]
AK933 - Kitty Hawk Museum LCC in Boise, Idaho.[42]
AK940 - Banta Aviation Corp. in Dover, Delaware.[43]
41-5709 - Walter Bowe in Sonoma, California.[46]
ET564/41-35918 - Training Services Inc. in Virginia Beach, Virginia.[47]
P-40K
P-40M
P-40N
TP-40N
On display
P-40C
P-40E
P-40N
42-105270 - Hill Aerospace Museum at Hill AFB in Utah. This aircraft is actually a composite of a P-40E fiberglass replica and a wrecked P-40N recovered from Alaska. The dataplates were unreadable so the Hill Aerospace Museum chose the serial number of a scrapped P-40 that had been flown by the same squadron that the wrecked aircraft belonged to.[76]
42-105927 - Museum of Aviation at Robins AFB in Warner Robins, Georgia.[77]
Under restoration
P-40E
P-40K
42-45946 - under restoration to airworthiness by Dwight Jones in Anchorage, Alaska.[82]
P-40N
s/n unknown - under restoration to airworthiness by C&G Air in Wilmington, Delaware.[83]
42-104959 - under restoration to airworthiness by Legacy Aviation Partners LLC in Wilmington, Delaware.[84]
42-105526 - under restoration to airworthiness by Craig Schultz in Santa Rosa, California.[85]
United States Air Force Museum. Wright-Patterson AFB, Ohio: Air Force Museum Foundation. 1975.

 
Community content is available under
CC-BY-SA
unless otherwise noted.