The F- 117A Nighthawk of the United States Air Force is the first plane in the world with stealth technology at low altitude. It is the direct descendant of the program prototipal Have Blue.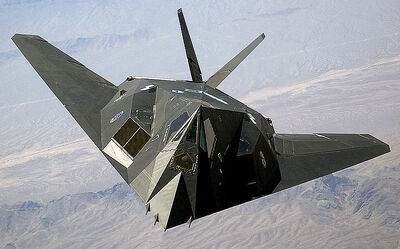 Prior to his baptism with the official name, the engineers and test pilots referred to this plane, which would be hidden from daylight to avoid the satellites Soviets, As "Cockroach", sometimes also used.
Another widely used nickname is "Wobblin' Goblin" due to the instability of the plane at lower speeds, especially during Aerial refueling.
The approval for the production of the F- 117A was issued in 1978 with a contract awarded to Lockheed Advanced Development Projects in Burbank, California. As a project of high secrecy. The first flight was conducted in 1981, only 31 months after the decision to mass production. The first F-117A came out in 1982 and its operational capacity established in October 1983. The last plane was delivered in Summe of 1990. The U.S. Air Force denied its existence until 1988 and, April 1990, an example was exhibited in public Nellis Air Force Base, in Nevada, attracting tens of thousands of spectators.
The F-117 has been used several times in modern warfare. Its first real mission was to Panama, in Operation Just Cause. In 1989. During the invasion, the F-117 dropped two bombs on the base Rio Hato. Later, during the Gulf War, Dropped smart bombs on targets in Iraq. Has been used since then in Kosovo War in 1999. In Afghanistan and the Operation Iraq Freedom.
Crew: 1
Length: 65 ft 11 in (20.09 m)
Wingspan: 43 ft 4 in (13.20 m)
Height: 12 ft 9.5 in (3.78 m)
Wing area: 780 ft² (73 m²)
Empty weight: 29,500 lb (13,380 kg)
Loaded weight: 52,500 lb (23,800 kg)
Powerplant: 2× General Electric F404-F1D2 turbofans, 10,600 lbf (48.0 kN) each
Maximum speed: Mach 0.92 (617 mph, 993 km/h)
Cruise speed: Mach 0.92
Range: 930 NM (1720 km)
Service ceiling: 69,000 ft (20,000 m)
Wing loading: 65 lb/ft² (330 kg/m²)
Thrust/weight: 0.40
2 × internal weapons bays with one hardpoint each (total of two weapons) equipped to carry:
Bombs:
Community content is available under
CC-BY-SA
unless otherwise noted.