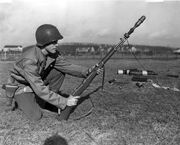 The M9 rifle grenade was a U S anti-tank rifle grenade used during World War II. It was derived as a lighter version of the M10 grenade which was too heavy to be fired to an effective distance from a rifle. (The M10 evolved into a rocket-propelled munition known as the bazooka.)
Towards the end of the Second World War, its limited effect against heavy German tanks became noticed. This became apparent when US forces engaged T-34 tanks in the Korean War. It was replaced in the anti-tank role by the M28, an American version of the Energa rifle grenade, which was itself replaced several years later by the M31 HEAT rifle grenade.
It was adopted by the British as the No. 85 grenade in 1944,[2] and was similarly superseded by the Energa in British service too during the 1950s. This new munition in the Commonwealth armoury required adapted discharger cartridges, which were made in the UK, Canada, Australia, India and Pakistan.[2]
Description
[
]
"GRENADE, ANTITANK, M9Al —STANDARD—

The antitank grenade, M9A1, has a sheet steel body and tail assembly and weighs 1.23 pounds. The body is filled with 4 ounces of Pentolite using the "hollow charge" principle. The tail contains the impact fuze and the stabilizing fin is spot welded on a stabilizer tube screwed to the head. The impact fuze consists of a firing pin held by a spring in flight. When shipped, the firing pin is retained by a safety pin. When the grenade strikes a target the pin moves forward to activate the detonator and explode the charge. The hollow shaped charge of this grenade has remarkable armor-penetrating qualities, The M9Al anti-tank rifle grenade supersedes the grenade, A.T., M9."

WAR DEPARTMENT, INFANTRY FIELD MANUAL § WEAPON AND AMMUNITION TECHNICAL MANUAL, INFANTRY REGIMENT, PARACHUTE, June 1944, Page 43
References
[
]
External links
[
]