The McDonnell Douglas A-4 Skyhawk is a plane specifically designed to operate from aircraft carrier. Developed in the years 1950 for U.S. Navy. The small, economical, yet versatile the Skyhawk still in use in several air forces the world.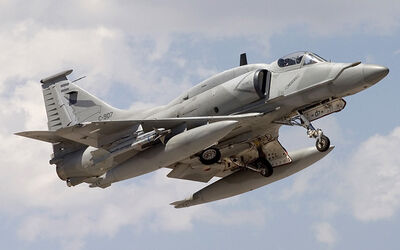 The McDonnell Douglas A-4 Skyhawk is a lightweight, single engine attack aircraft. The mission of an A-4 attack squadron is to attack and to destroy surface targets in support of the landing force commander, escort helicopters, and conduct other operations as directed.
The Skyhawk was designed by Douglas' Ed Heinemann in response to a U.S. Navy call for a jet-powered attack aircraft to replace the A-1 Skyraider. After Numerous tests the skyhawk was selected for production. The diminutive Skyhawk soon received the nicknames "Scooter", "Bantam Bomber", "Tinker Toy Bomber", and, on account of its nimble performance, "Heinemann's Hot-Rod." The aircraft is of conventional post-WW2 design, with a low-mounted delta-like wing, tricycle undercarriage, and a single turbojet engine in the rear fuselage, with intakes on the fuselage sides. The tail is of cruciform design, with the horizontal stabilizer mounted above the fuselage. Armament consisted of two 20 mm Colt Mk 12 cannon, one in each wing root, with 200 rounds per gun, plus a large variety of bombs, rockets, and missiles carried on a hardpoint under the fuselage centerline and hardpoints under each wing (originally one per wing, later two). Skyhawks were well loved by their crews for being tough and agile. These attributes, along with its low price tag and easy maintenance, have contributed to the popularity of the A-4 both with American armed forces and internationally. The price for one unit is around $860,000 USD.
A-4 AF-1 Skyhawk: The original version of the A-4
A-4 AF-1A Skyhawk: The same A-4 but with two seats
A-4KU: The most modern version of the A-4 Skyhawk with one seat
TA-4KU: The training version of the A-4KU with two seats
Crew: 1 (2 in OA-4F, TA-4F, TA-4J)
Length: 40 ft 3 in (12.22 m)
Wingspan: 26 ft 6 in (8.38 m)
Height: 15 ft (4.57 m)
Wing area: 259 ft² (24.15 m²)
Airfoil: NACA 0008-1.1-25 root, NACA 0005-0.825-50 tip
Empty weight: 10,450 lb (4,750 kg)
Loaded weight: 18,300 lb (8,318 kg)
Max takeoff weight: 24,500 lb (11,136 kg)
Powerplant: 1× Pratt & Whitney J52-P8A turbojet, 9,300 lbf (10,000+ USMC A-4M and OA-4M) (41 kN)
Maximum speed: 585 kn (673 mph, 1,077 km/h)
Range: 1,700 nmi (2,000 mi, 3,220 km)
Service ceiling: 42,250 ft (12,880 m)
Rate of climb: 8,440 ft/min (43 m/s)
Wing loading: 70.7 lb/ft² (344.4 kg/m²)
Thrust/weight: 0.51
g-limit: -3/+8 g
Guns: 2× 20 mm (0.79 in) Colt Mk 12 cannon, 100 rounds/gun
Hardpoints: 4× under-wing & 1× under-fuselage pylon stations holding up to 9,900 lb (4,490 kg) of payload
Rockets:

4× LAU-10 rocket pods (each with 4× 127 mm Mk 32 Zuni rockets)

Missiles:

Air-to-air missiles:
Air-to-surface missiles:

Bombs:
Others:

up to 3× 300/330/370 US Gallon Sargent Fletcher drop tanks (pylon stations 2, 3, 4 are wet plumbed) for ferry flight/extended range/loitering time
Stewart-Warner AN/APQ-145 Mapping & Ranging radar (mounted on A-4F, also found on A-4E/N/S/SU)
APN 141 Doppler Ground Radar (refitted to C and E, standard in the F)
Community content is available under
CC-BY-SA
unless otherwise noted.