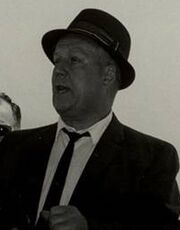 Morgan Leonidas Gies (21 March 1908 in Maryland - 13 May 1980 in Reisterstown, Maryland) was a American veteran of the United States Navy who served in World War II. He also served in the United States Secret Service during the presidency of John F. Kennedy.
Morgan was born in the state of Maryland on 21 March 1908 to John L. and Lucy Gies. He also had a sister named Margaret E. He married a girl named Hazel V. and joined the Secret Service in 1940. He took a break from the service in to join the United States Navy on 9 March 1944 serving for the remainder of World War II until being discharged on 27 August 1945. He returned to the Secret Service afterwards later retiring in 1967 after protecting presidents Truman, Eisenhower, Kennedy, and Johnson. He passed away on 13 May 1980 at the age of 72 in Reisterstown, Maryland. He was buried in the Reisterstown Community Cemetery in Reisterstown in Maryland.
Community content is available under
CC-BY-SA
unless otherwise noted.