The PM-63 RAK (which is polish for hand held automatic commando firearm) is a polish Machine Pistol designed by the Lucznik Arms Factory in 1950. More than 70.000 PM-63 weapons were manufactured.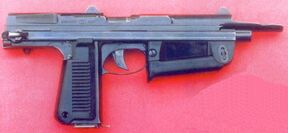 The Polish PM-63 RAK, that means 'hand held automatic commando firearm' combines the characteristics of a self-loading pistol with a fully automatic submachine gun (thus being a machine pistol). It is a selective-fire straight blowback-operated weapon firing from an 'open bolt' position, with reciprocating external breech bolt, or slide. Built at the Lucznik Arms Factory in Poland, this weapon was produced from 1964 till 1974, during which time 70,000 units were made, and they are still in military use today. Chambering the 9x18mm Makarov cartridge, this fantastic piece of hardware comes with the standard 15 round magzine and a larger capacity 25 round magazine. Featuring collapsible front stock and telescopic rear stock to convert from automatic pistol to submachine gun. Complete with sling and holster, this weapon is in mint condition and has full working action and can be cocked and dry-fired.
China
Cuba
East Germany
Poland
Vietnam
Weight: 1.6 kg
Length: 5.83mm
Cartridge: 9x18mm Makarov or 9x19mm Parabellum
Action: Straight Blowback
Rate of Fire: 650 Rounds per Minutes
Muzzle Velocity: 320 meters per second
Effective Range: 150 meters
Feed System: 15 or 25 round-box dechatable magazine
Community content is available under
CC-BY-SA
unless otherwise noted.