The Ratel is an Infantry Fighting Vehicle (IFV), the South African National Defence and the battalions of mechanized infantry force, and its name is derived from an African animal known in English as the Honey Badger (Ratel), Which has a reputation as a fierce fighter.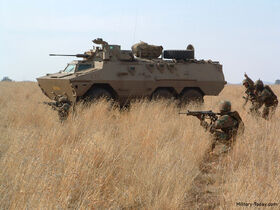 The Ratel wheeled IFV is named after the honey badger, noted for its toughness when fighting many would consider the Ratel IFV to be well named. It first appeared in 1974, when sanctions were at their height, having been totally developed within South Africa. This armored vehicle was manufactured by Sandock-Austral. Production commenced in 1978 and final deliveries were made during 1987. A number of Ratels were exported. It is estimated that a total of 1 500 of these wheeled IFVs were produced.
All models of the Ratel have a 6x6 drive configuration with the long armored steel hull being specially contoured underneath to minimize land mine damage, if necessary the Ratel can travel with two wheels missing. In the SANDF the use of wheeled armored vehicles has always been an advantage. For decades South Africa was involved in conflicts where their forces had to travel great distances with a little logistical support. The Ratel's wheeled configuration was perfect for prolonged journeys.
The main variant is the Ratel 20, armed with a French GIAT 20-mm cannon in a two-man turret, plus three 7.62-mm MGs, one coaxial one over the turret and one on a pintle mounting over a hatch in the rear hull roof. The 20-mm cannon has an effective range of 1500 m and can engage light armored vehicles.
This baseline version is used as a troop transport. Firing ports and vision devices are provided for most occupants of the crew compartment which is entered through side doors or another at the rear.
Front armor of the Ratel provides protection against 12.7-mm rounds. All-round
protection is against 7.62-mm ammunition.
Vehicle is powered by a turbocharged diesel engine, developing 282 hp. Engine is located at the rear. Vehicle has a cross-country performance similar to that of the tracked vehicles. This infantry fighting vehicle is not amphibious. Almost any Ratel can be rapidly converted into a light ARV by adding a small jib crane to the hull rear.
A fire support variant, the Ratel 90, is virtually identical to the Ratel 20 apart from the turret mounting a 90-mm gun and one passenger less to make room for the bulkier ammunition. It is fitted with a complete turret of the Eland armored car. There is also a Ratel 60 with a 60-mm breech-loading mortar in the turret An anti-tank Ratel ZT3 has a special turret with a bank of three Swift ATGWs over the roof. These is a special command version with a turret with a 12.7-mm MG in a mantlet while an 81-mm mortar carrier does not have a turret at all; the traversable mortar fires through open roof hatches.
One of the latest variants in the so-called Enhanced Artillery Observation System (EAOS) on which a raised superstructure behind the drivers position and a special lifting mast carrying a multi-sensor head for target detection and data transmission to a central control post. The iKlwa prototype armored personnel carrier is a further development of Ratel
Ratel 20 - Original version, French designed turret (see side notes)
Ratel 60 - crew of 3 plus 7 infantry, turret is identical to that of the Eland 60 with a 60 mm breech-loading mortar
Ratel 81 - no turret, but an 81 mm mortar is installed in the crew compartment for use as a fire support platform
Ratel 90 - crew of 3 plus 6 infantry, turret is identical to that of the Eland 90. Primary role: fire support for the Mechanized Battalions
Ratel 120 - 120mm mortar carrier. Prototype only
Ratel Command - crew of 9 men, two-seater turret with a 12,7 mm machine gun
Ratel EAOS - Enhanced Artillery Observation System
Ratel Maintenance - setup as a mobile workshop
Ratel ZT3 - new anti-tank turret, with a rack containing 3 anti-tank missiles ready for launch and additional missiles stored within the hull
Ratel Logistic - 8x8 logistic vehicle. Only 2 prototypes were built
South Africa
Jordan
Morocco
Djibouti
Ghana
Crew: 2 more 9 passengers.
Weight: 18.5t
Length:"' 7.21m
Width: 2.51m
Height: 2.1m
Engine:Bussing D-3256 BTXF Diesel.
Engine Power: 282 hp
Maximum Speed: 105 km/h
Main Gun: GT2 90mm
Secondary Guns: 3x 7.62mm Machine guns
4x Smoke Grenades
Community content is available under
CC-BY-SA
unless otherwise noted.