The Repulblic P-47 Thunderbolt was an American fighter used in the Second World War.
This massive fighter was one of the most successful in the war, acting as escort at the beginning of bombers and fighter-bomber and finally, where she stood. Endowed with the biggest engine so far put in a game ( 2000 hp ). Despite its size, was relatively agile and quick, diving better than any German fighter.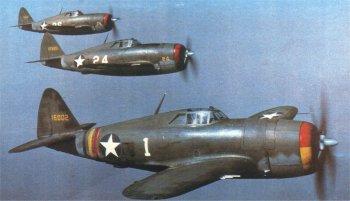 The most famous of all products of the company,
Republic P-47 Thundebolt,
designed by Alexander Kartveli, played a significant role during World War II, of this model were built 15 677 copies before production ceased after canceling a series of huge orders at the time Japan surrendered. Like other great fighters, the P-47 had two nicknames. The first one (
Jug", a diminutive of " Juggernaut,"Junk" due to its considerable proportions) was assigned by his crew, while the second ("T-bolt") was simply a contraction of his name official.
Heir to a dynasty was born with Seversky P-35 of Alexander Seversky And was maintained with Republic P-43 Lancer and refine the P-44 provided high performance, the P-47 was the result of indecision that gripped the USAAC in 1940 on whether to build light or heavy fighters. The commission plans light fighter projects Republic AP-4 and AP-10 redesignated respectively XP -47 and XP-47A. Were canceled when analyzing the reports on air combat that took place in Europe. Kartveli then outlined his proposals for a heavy fighter that met the new requirements, basing his opinion on the use of turbocharged engine Pratt & Whitney Double Wasp R -2800 and getting a contract for a prototype XP-47B derived from its design.
Operators
Edit
Bolivia
Brazil
Chile
Republic of China
Colombia
Cuba
Dominican Republic
Ecuador
El Salvador
France
Honduras
Iran
Italy
Mexico
Nicaragua
Peru
Portugal
Soviet Union
Turkey
United Kingdom
United States
Venezuela
Yugoslavia
Specifications
Edit
General characteristics
Edit
Crew: 1
Length: 36 ft 1 in (11.00 m)
Wingspan: 40 ft 9 in (12.42 m)
Height: 14 ft 8 in (4.47 m)
Wing area: 300 ft² (27.87 m²)
Empty weight: 10,000 lb (4,536 kg)
Loaded weight: 17,500 lb (7,938 kg)
Max takeoff weight: 17,500 lb (7,938 kg)
Powerplant: 1× Pratt & Whitney R-2800-59 twin-row radial engine, 2,535 hp (1,890 kW)
Performance
Edit
Maximum speed: 433 mph at 30,000 ft (697 km/h at 9,145 m)
Range: 800 mi combat, 1,800 mi ferry (1,290 km / 2,900 km)
Service ceiling: 43,000 ft (13,100 m)
Rate of climb: 3,120 ft/min (15.9 m/s)
Wing loading: 58.3 lb/ft² (284.8 kg/m²)
Power/mass: 0.14 hp/lb (238 W/kg)
8 × .50 in (12.7 mm) M2 Browning machine guns
Up to 2,500 lb (1,134 kg) of bombs
10 × 5 in (130 mm) unguided rockets
Community content is available under
CC-BY-SA
unless otherwise noted.