Richard King Donahue
Richard K. Donahue
Assistant to the President

In office
1960–1963
President
John F. Kennedy
Personal details
Born
July 20, 1927
Lowell, Massachusetts
Died
September 15, 2015 (aged 88)
Lowell, Massachusetts
Resting place
Saint Mary Cemetery, Tewksbury, Massachusetts
Nationality
American
Political party
Democratic
Spouse(s)
Nancy Lawson
Children
11
Alma mater
Dartmouth College (AB)
Boston University (LLB)
Occupation
Lawyer
chief operating officer for NIKE, Inc.
Military service
Allegiance
United States
Service/branch
United States Navy
Years of service
?-1946
Battles/wars
World War II
Richard King Donahue (20 July 1927 in Lowell, Massachusetts - 15 September 2015 in Lowell, Massachusetts) was an American lawyer and former aide to President John F. Kennedy.
Richard was born in Lowell, Massachusetts on July 20, 1927 to Joseph P. and Dorothy F. Donahue. He also had three brothers (Daniel, David, and Joseph Jr.) and three sisters (Margaret, Catherine, and Dorothy).
He served in the United States Navy during World War II. He was discharged in 1946.
He received his Bachelor of Arts degree from Dartmouth College in 1948 and his Bachelor of Laws degree from Boston University in 1951.
Upon being admitted to the Massachusetts Bar, he worked at the family law firm as a trial attorney focusing on criminal and civil defense. He was a highly skilled trial lawyer and became known for his proficient cross examinations. Based on peer review he was admitted as a Fellow of the American College of Trial Lawyers in 1970. All the while he remained active in the Democratic Party and the Greater Lowell community.
In September 1963, he returned to Lowell to resume his law career at Donahue & Donahue, one of the premier law firms in the Commonwealth founded by his grandfather, Daniel J. Donahue.
He first met Jack Kennedy in 1952, during a political luncheon at the Rex in Lowell, when the third-term congressman was running for the U.S. Senate.
A friend and protégé of Larry O'Brien and Kenny O'Donnell, he became a key player in the grass roots organizing of John F. Kennedy's campaigns for the U.S. Senate and President.
He went on to serve as a delegate for Massachusetts during the 1960 Democratic National Convention in Los Angeles. Following the election he was instructed by the President-elect to help Kenny O'Donnell form the staff of the new administration.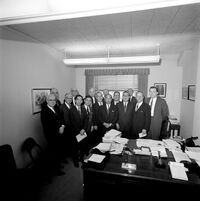 He served as Assistant to the President in the White House from 1960 to 1963 acting as liaison between the White House and Congress. He worked alongside Lawrence F. O'Brien, Jr., Kenneth P. O'Donnell, Charles U. Daly, David F. Powers and Ralph A. Dungan – a group more commonly known as Kennedy's Irish Mafia -- or "Murphia," as Jackie Kennedy was known to quip.
In 1977 Senator Edward M. Kennedy charged him with heading the Massachusetts Judgeship Selection Committee which was responsible for filling four vacant spots in the federal judiciary. Then in 1980, Senator Kennedy again called on him this time to revive his flagging presidential campaign by assuming the leadership role for the New York state primary.
His role of managing Kennedy's successful New York primary upset of President Jimmy Carter was summed up best by Donahue "I came here in a cab. I'm going out in a limousine."
In 1984, he became a Founding Board Member of the John F. Kennedy Library Foundation, the non-profit organization created to provide financial support, staffing, and creative resources for the federally operated John F. Kennedy Presidential Library and Museum. A major contributor to the foundation, he served as vice chairman of the Board for 29 years.
As the first Chairman of the John F. Kennedy Profile in Courage Award Committee, he helped create and launch in 1989 the prestigious award for political courage that is presented annually to public servants who have made courageous decisions of conscience without regard for the personal or professional consequences. He served and chaired the bipartisan committee from its inception through 1996.
In addition to his law career, he served on the Board of Directors for NIKE, Inc. and would go on to become President and Chief Operating Officer from 1990-1994. In 2008, he retired as Vice-Chair from the board having served since 1977.
From 1976 to 1990 he served on the Board of Trustees at the University of Lowell (now University of Massachusetts at Lowell) serving as chairman for the final three years. In 1979, the Donahues help found the Merrimack Repertory Theatre which they have supported for the last 37 years.
In December 2006, he accepted a three-year suspension from practicing law for allegedly crossing ethical boundaries in the Demoulas supermarket family feud in the 1990s.
His involvement in the disciplinary matter ultimately resulted in the state Supreme Judicial Court reinstating him to the bar in good standing.
He held leadership and executive positions in legal associations locally, regionally and nationally. He was a former president of the New England Bar Association and two-term president of the Massachusetts Bar Association from which he received the Gold Medal in 1979. He served as the Chairman of the Board of Bar Overseers and the Massachusetts Bar Association Commission on Professionalism. He also served on the Board of Governors of the American Bar Association and as chairman of the Individual Rights and Responsibilities Committee for the ABA.
While attending BU Law School he met his wife-to-be Nancy Lawson on Joy Street in Boston. They were married in 1953. Together they had eleven children.
He died on September 15, 2015 in Lowell, Massachusetts. He was 88 years old. He was buried in Saint Mary Cemetery in Tewksbury, Massachusetts.
Community content is available under
CC-BY-SA
unless otherwise noted.