The B-1 Lancer is a supersonic strategic bomber with variable-sweep wings. The origins of the B-1 date back to the 1960s in a search for a supersonc bomber with sufficient range annd payload to replace the B-52 Stratofortress, but would develop into a subsonic low level long-range bomber. After several production delays the first B-1Bs entered service in 1986 with the United States Air Force.
The B-1 program was initiated in the 1970s with the hope of fielding a long-rang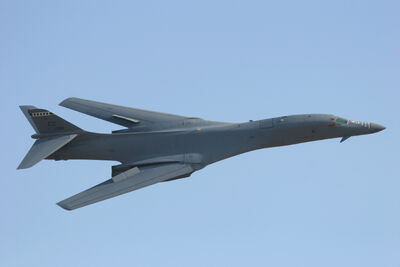 e supersonic bomber capable of dashing at nearly mach 2; it was quickly canceled by 1977. However, in a twist of fate underneath the leadership of Ronald Reagan, the B-1 received a new lease on life as the marginally redesigned structure of the B-1B. Stealthy, fast, and able to carry a heavy payload, it was hoped that the B-1B would be able to replace America's aging fleet of old B-52's. However there were several problems with the design. Despite an impressive take-off weight of 477,000 pounds, the ability to dash at 900 miles per hour (a reduction in speed from the A's projected 1340 MPH), and excellent terrain following capability, the new aircraft also had to contend with fuel leaks and engine fires in its initial years of service. Maintenance was an enormous issue with the new bomber, as there was a severely low funding allocation to the bomber's logistics crews. After finally succeeding to raise this rate, the B-1B would end up losing its nuclear delivery capability by 1994, serving as a conventional bomber only. It would also never actually replace the B-52; it only replaced older models and the swing-wing F-111 strike fighter.
Despite these troublesome setbacks, the aircraft has managed to improve it's reputation in recent times; with the B-1B being used successfully in recent conflicts. The 'BONE' first got it's taste of combat in Iraq during 'Operation Desert Fox' in 1998. The following year, it would be used against Serbian forces in "Operation Allied Force" being primarily used as an old fashioned 'bomb truck'. Following the September 11th attacks; the B-1B was one of many weapons systems that were brought to use against Taliban and Al-Qaeda forces in Afghanistan. During the U.S. led invasion of Iraq in 2003, the B-1B was used again with good results against enemy forces in support of the allied push into Baghdad. To this day the B-1B Lancer continues to be upgraded and is expected to serve well into the 21st century.
B-1A
The B-1A was the original B-1 design with variable engine intakes and Mach 2.2 top speed. Four prototypes were built; no production units were manufactured.
B-1B
The B-1B is a r
evised B-1 design with reduced radar signature and a top speed of Mach 1.25. It was otherwise optimized for low-level penetration. A total of 100 B-1Bs were produced.
B-1R
The B-1R is a proposed replacement for the B-1B, created from the existing aircraft. The B-1R (R for "regional") would be a Lancer with advanced radars, air-to-air missiles, and Pratt & Whitney F119 engines. Compared to the B-1B, the B-1R would have a higher top speed of Mach 2.2, but its range would be 20% less. Existing external hardpoints would be modified to allow multiple conventional weapons to be carried, increasing overall loadout. For air-to-air defense, an Active Electronically Scanned Array (AESA) radar would be added and some existing hardpoints modified to carry air-to-air missiles. If needed the B-1R could escape from unfavorable air-to-air encounters with its Mach 2+ speed. Few aircraft are capable of over Mach 2 speeds, and those that are can maintain these speeds for only very short periods of time.
Crew: 4 (aircraft commander, copilot, offensive systems officer and defensive systems officer)
Payload: 125,000 lb (56,600 kg) ; internal and external ordnance combined
Length: 146 ft (44.5 m)
Wingspan:

Extended: 137 ft (41.8 m)
Swept: 79 ft (24.1 m)

Height: 34 ft (10.4 m)
Wing area: 1,950 ft² (181.2 m²)
Airfoil: NA69-190-2
Empty weight: 192,000 lb (87,100 kg)
Loaded weight: 326,000 lb (148,000 kg)
Max takeoff weight: 477,000 lb (216,400 kg)
Powerplant: 4× General Electric F101-GE-102 augmented turbofans

Dry thrust: 14,600 lbf (64.9 kN) each
Thrust with afterburner: 30,780 lbf (136.92 kN) each

Fuel capacity, optional: 10,000 U.S. gal (38,000 L) fuel tank for 1–3 internal weapons bays each
Maximum speed:

At altitude: Mach 1.25 (721 knots, 830 mph, 1,340 km/h at 50,000 ft/15,000 m altitude)
At low level: Mach 0.92 (700 mph, 1,130 km/h at 200–500 ft/60–150 m altitude)

Range: 6,478 nmi (7,456 mi, 11,998 km)
Combat radius: 2,993 nmi (3,445 mi, 5,543 km)
Service ceiling: 60,000 ft (18,000 m)
Wing loading: 167 lb/ft² (816 kg/m²)
Thrust/weight: 0.38
Hardpoints: six external hardpoints for 50,000 lb (22,700 kg) of ordnance (use for weapons currently restricted by START I treaty) and 3 internal bomb bays for 75,000 lb (34,000 kg) of ordnance.
Bombs:

84× Mk-82 AIR inflatable retarder general purpose bombs
81× Mk-82 low drag general purpose bombs
84× Mk-62 Quickstrike sea mines
30× CBU-87/89/CBU-97 Cluster Bomb Units (CBU)
30× CBU-103/104/105 Wind Corrected Munitions Dispenser
24× GBU-31 JDAM GPS guided bombs
15× GBU-38 JDAM GPS guided bombs (Mk-82 general pu4pose warhead)
96× or 144× GBU-39 Small Diameter Bomb GPS guided bombs (not fielded on B-1 yet)
24× AGM-158 JASSM
24× B61 thermonuclear variable-yield gravity bombs (no longer carried)
24x B83 nuclear bomb (no longer carried)
1× AN/APQ-164 forward-looking offensive passive phased-array radar
1× AN/ALQ-161 radar warning and defensive jamming equipment
1× AN/ASQ-184 defensive management system
1× Lockheed Martin Sniper XR targeting pod (optional)
Community content is available under
CC-BY-SA
unless otherwise noted.