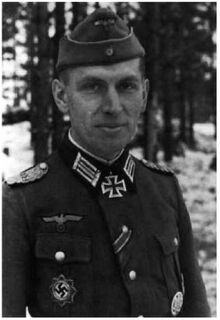 Rudolf Geisler (29 March 1911 – 13 April 1944) was a highly decorated Oberstleutnant in the Wehrmacht during World War II. He was also a recipient of the Knight's Cross of the Iron Cross with Oak Leaves (Ritterkreuz des Eisernen Kreuzes mit Eichenlaub). The Knight's Cross of the Iron Cross and its higher grade the Oak Leaves was awarded to recognize extreme battlefield bravery or successful military leadership. Rudolf Geisler was severely wounded in defense of Kovel on 11 April 1944 In a counterattack. A grenade exploded in the immediate vicinity of Geisler and he was hit several times by the splintering. He succumbed to his injury, a splinter wound in the pelvis, at the field hospital at Kovel on 13 April 1944, the same day he was awarded the Oak Leaves.
Citations
Bibliography
Community content is available under
CC-BY-SA
unless otherwise noted.