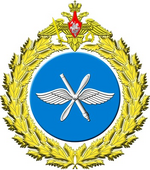 The Russian Air Force is the air force of the Russian Federation. With 2,749 aircraft, it is the third largest Air Force in the world. It is currently under the command of Lieutenant General Viktor Bondarev.
The Air Force was formed from parts of the former Soviet Air Forces after the dissolution of the Soviet Union in 1991-92. Boris Yeltsin's creation of the Ministry of Defence of the Russian Federation on May 7, 1992, can be taken as a convenient formation date for the new Air Force. Since that time, the Air Force has suffered severe setbacks due to lack of resources, and has constantly shrunk in size. Since Vladimir Putin became President of the Russian Federation however, much more money has been allocated to the Armed Forces as a whole. It remains to be seen whether such extra financial resources can be translated into combat capability in terms of well trained pilots, flying well maintained aircraft with ample training resources.
Community content is available under
CC-BY-SA
unless otherwise noted.