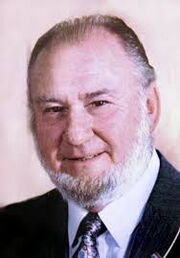 Samuel Allen Kinney, Sr. (12 September 1926 in Shenandoah, Iowa - 21 July 1997 in Ottumwa, Iowa) was a American veteran of the United States Navy who served in World War II. He also served in the United States Secret Service during the presidency of John F. Kennedy.
Samuel was born in Shenandoah, Iowa on 12 September 1926 to Francis A. and Hazel F. H. He also had a brother (Billy G.) and a sister (Anita I.). He served in the United States Navy during World War II. He married a girl named Hazel Jeanne Holmes and joined the Secret Service protecting four presidents (Truman, Eisenhower, Kennedy, and Johnson) during his career. He was the driver of the limousine immediately following the presidential limousine in the motorcade in Dallas when President John F. Kennedy was assassinated. He passed away on 21 July 1997 in Ottumwa, Iowa at the age of 70. He was buried in Lake Worth Memory Gardens in Lake Worth, Florida.
Community content is available under
CC-BY-SA
unless otherwise noted.