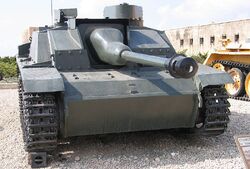 The
Sturmgeschütz III
(
StuG III
) was one of vehicles produced by Germany during WWII. It was based on
Panzer III
's chassis. Designed as an infantry support tank, it increasingly took on the role of tank destroyer due to its low profile and good cannon. As the most produced tank by Germany during
World War II
(10,500 units), it thus took on the role of conventional tank warfare. The Sturmgeschütz is also known for its good price to profit ratio. The StuG was manned by four crew members. It was operated by Germany, Italy, Finland, Spain and Syria. These three latter countries retained their StuG IIIs far beyond 1945, being used for example in the
Six Day War
(1967) by Syria.
Nazi Germany
Kingdom of Romania
Kingdom of Bulgaria
Finland
Kingdom of Hungary
Kingdom of Italy
Norway - Surrendered German equipment was used from 1947 to 1951
Spanish State (In 1943, received 10 units and used until 1954)
Sweden - one StuG IIID received from Norway in 1947, used for trials and testing of anti-tank mines, one StuG IIIG used for spare parts
Syria
Turkey
Soviet Union (for testing and modifications)
SFR Yugoslavia
Variants of the StuG include:
StuG IV: Externally similar to the StuG III, this was built on the chassis of a PzKpfW. IV
StuK III: The

 

Stu

 

rmkanone II

 

I was built as a mobile howitzer, and thus had a larger 105mm cannon used for indirect fire support.
Specifications
Edit
Speed (cross-country): 25 km/h