The Taurus CT-40 is a semiautomatic derivation of the MT-40 submachine manufactured by Forjas Taurus in Brazil. It was developed for Brazil's law enforcement agencies to compliment their domestically produced 7.62 FAL battle rifles. The use of a pistol-caliber carbine allowed for greater range and firepower compared to a handgun, without having to resort to a powerful, long-range rifle cartridge. It is unknown whether any select-fire CT-40s were ever produced.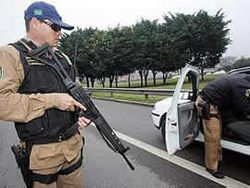 The CT-40 rifle, the first manufacturing by Taurus brings a version of semi-automatic shooting and a lot longer barrel of the Taurus MT-40. As the MT-40, the target of this product was also the police market, devoid of a rifle with a caliber suitable for use in urban areas. The CT-40 has the advantage of using the same ammunition of pistols in service in most police forces. However, the Taurus has seen further and released a version of its semi-automatic carbine chambered in 30.06 caliber. This caliber can have a very high energy stopping power of a .45 ACP caliber bullet, but 180 meters away, this performance impossible for the CT-40 rifle and it's 40 caliber. It's unclear if the Brazilian Army uses this weapon from training or in their units itself.
Type: Rifle.
Operating System: Blowback
Caliber: .40 S&W.
Weight: 4.06 kg (loaded).
Total Length: 89 cm.
Barrel length: 16 inches.
Sights: Adjustable sight, fixed mass.
Muzzle velocity: 300 meters per second
Feed System: A dechatable magazine with 15 or 30 rounds
Community content is available under
CC-BY-SA
unless otherwise noted.