The T-72Z is a highly modernized version of the T-55, the upgrades have been done by the Defense Industries Organization of Iran. The name Safir-74 is used to refer to the Iranian T-54 tanks which have gone through the same upgrades, while Type T-72z is used to refer to Iran's Type 59 tanks which have gone through this upgrade. This tank should not be confused with the Russian T-72.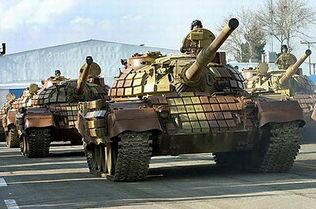 Upgrades include mounting a new armament system consisting of 105mm barrel gun model M68 with a long operational life, effective range, precision, high firing power and simple replacement without removal of the turret, plus a Slovenian Fontana Electronic Fire Control System (EFCS-3).
Automatic/manual stabilization and firing of the gun improves the firing capability of mobile tank at moving or stable target. The Type 72Z uses a Ukrainian V46-6 diesel engine with 780 h.p. Easy driving and maneuverability can be increased with semi-automatic and automatic gear shifting modes.
Installation of all power compartments; engine, gear box, brake, steering, transfer case, cooling system and hydraulic system in an assembly called "power pack" ensures lower repair time, quick mounting and dismantling of power pack. By employing reactive armour protection on this tank, protection against anti-tank weapons is increased.
Community content is available under
CC-BY-SA
unless otherwise noted.